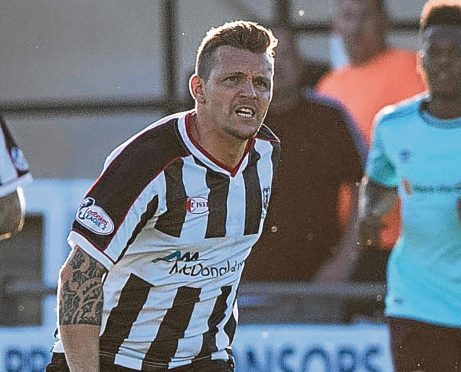 Elgin City remain undefeated on the road this season however skipper Jon-Paul McGovern is keeping his feet on the ground ahead of todays' League 2 trip to his former club Clyde.
The Black and Whites have traditionally struggled away from home but have made a fine start to the campaign, with their only defeat a 3-0 home loss to Stirling Albion earlier this month.
Despite going into today's game fresh from a 3-0 triumph at Berwick Rangers last weekend, McGovern expects a tougher encounter against a Bully Wee side who he believes will have promotion aspirations this season.
McGovern said: "We have had a decent start to the season, taking 10 points, although we were disappointed with the Stirling Albion game.
"It was nice to bounce back with a good win, but we are not going to get carried away – this will be a tough game.
"Clyde are a real good side. Danny Lennon has done a great job there, I've heard he's really thorough.
"The board seem to have backed his recruitment and they will be expecting to be up there this season. It's up to us to go down there and put our gameplan in place to get a win."
McGovern is pleased with the squad City manager Gavin Price has assembled this season, with the midfielder adding: "We have got a feel-good factor in the dressing room at the moment. It's a healthy squad, we have a couple of players not playing who would feel they can more than compete and play in our team and other teams.
"No doubt the manager is delighted to have competition for places though. We managed to get that early on in pre-season when we got together and did some sessions, we worked hard on a lot of things."
McGovern is no stranger to Broadwood, having spent two years with the Cumbernauld outfit during which time he was briefly co-manager of the club along with Peter MacDonald, and the 37-year-old added: "It's a big pitch at Broadwood. Having played there in both home and away teams, the pitch is a good size and it's a good place to play. Home or away it's somewhere players look forward to playing.
"It's always nice to play against a former club, there are still a couple of boys there, such as David Goodwillie and Martin McNiff, but the rest have been moved on.
"I have always been well received by the directors and I like to think I always conducted myself well in whatever job I did, whether it was playing or managing.
"I fully expect to go back and take abuse from the fans as you do, but as a football player of my age I can take that."