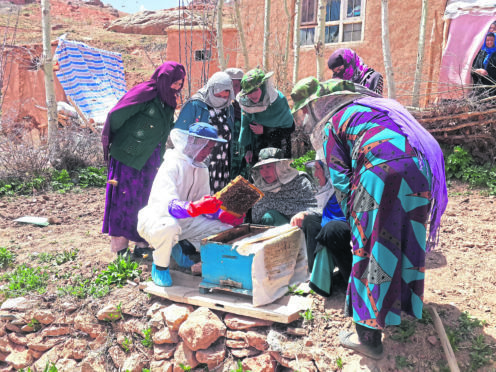 The legacy of kidnapped aid worker Linda Norgrove – who died eight years ago this week in a failed rescue attempt in Afghanistan – is helping women there make a living as beekeepers and silk weavers.
The parents of the 36-year-old from Uig, on the Isle of Lewis, set up a charity foundation in their daughter's memory, and have raised more than £1 million to help women and children affected by the Afghan war.
When the aid worker was kidnapped by rebels, US forces launched a rescue bid on October 8, 2010, which ended in her death.
Her parents, John and Lorna, wanted Linda to be remembered for her contribution to life, rather than the tragedy, and set up the foundation.
Some of the latest projects they have supported include business training initiatives for women in beekeeping and silk weaving.
The parents said: "A couple of years ago we gave two grants to a womens' beekeeping co-operative in Bamyar Province in the mountains of central Afghanistan.
"They are now doing so well that, as well as selling loads of honey, they have been able to split bee swarms to sell – a real cottage industry is evolving."
They added: "Earlier this year we were approached by Dr Habib Noori, the vet and bee enthusiast who advised the Bamyar group 50km north of Kabul in the foothill of the Hindu Kush mountains.
"The group has not previously received any outside help and our grant of £5,300 will finance a significant expansion by providing training for another 23 women and equip each with two hives and colonies.
"If all goes well it could gain a profit of $300 a year – a significant income in rural Afghanistan."
The Linda Norgrove Foundation has also donated £6,865 to Scawna, an Afghan educational charity a rundown area of Kabul for children who do not attend school and provide training in tailoring for women and single mothers, enabling them to make a small income.
The parents added: "These projects are popular with us – run by experienced enthusiasts in a rural area, empowering women and providing them with a modest sustainable income."
The Foundation has also provided funding to provide scholarships enabling dozens of poor girls to attend university, including a number training to be doctors.
It has given a grant to Healthprom, which involves digging underground tanks from solid rock to provide safe drinking water to isolated villages.
Committed Linda died during failed rescue
Linda Norgrove was working as an aid worker for American charity DAI in Afghanistan when she was kidnapped from Kunar province and killed in 2010.
The 36-year-old humanitarian worker was seized by militants in the Dewagal valley on September 26 alongside three local staff after their vehicles were ambushed.
She was held by her kidnappers for 12 days before being killed during a failed rescue attempt by US Special Forces on October 8, 2010, where grenades were used.
All other staff were released unharmed.
During her time in the Middle East, Miss Norgrove was overseeing the completion of development projects such as road building and irrigation projects. This followed on from her previous three-year stint as an aid worker.
In recognition of her achievements and her contribution to Afghan life, her family have since founded the Linda Norgrove Foundation; supporting grass-roots projects and providing scholarships for young females in the country.
More than eight years following Miss Norgrove's death, the foundation has now recruited 21 young women to study medicine in Afghanistan.