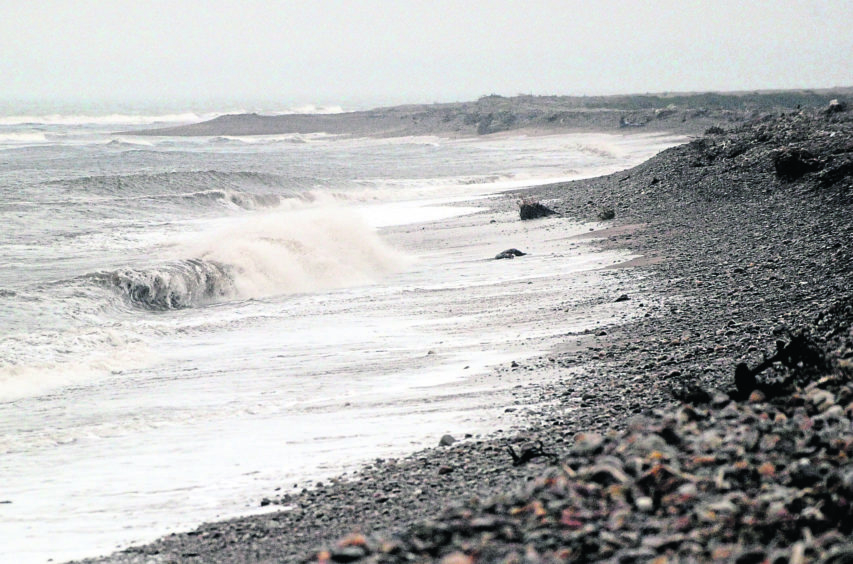 Stark warnings have been issued about the potential loss of an entire Moray village to coastal erosion.
Local campaigners have warned that without action the entire beach behind which Kingston-on-Spey shelters could be swept away within a matter of years.
They fear one more giant storm – such as that which hit the coastal community in December 2014 – could be enough.
---
>> Keep up to date with the latest news with The P&J newsletter
---
That would leave the village itself at risk of flooding, with one Doomsday scenario suggesting it too could then be lost to the North Sea within decades.
The beach at Kingston, near to Garmouth, is made of shingle – a feature of the coastline that stretches over eight miles westward from Portgordon.
In recent years, however, it has been getting smaller and smaller due to the actions of the sea, tide and wind.
A local coastal erosion campaigner believes in excess of six million tonnes of material has been removed from the beach.
Jim Mackie founded the James A Mackie Memorial Trust in 2014 to campaign for enhanced protection of the Kingston and Garmouth areas from flooding.
It was designed as a tribute to his grandfather – a Burghead fisherman who was lost at sea in 1922.
He has monitored the beach at Kingston for many years and has warned that if nothing is done to stop the coastal erosion, the whole beach could soon disappear.
Mr Mackie said: "There has been coastal erosion taking place for years but the biggest impact on Kingston occurred in December 2014.
"There was a massive storm and high tide and the strip of gravel between the sea and the beach moved forty to fifty yards across.
"Once there is another similar storm, it won't take much for the waves to overtake the gravel and it will be gone.
"Over the last eight years there has been a huge difference in how much the sea has come in."
One solution he has offered to slow coastal erosion is to install an off-shore wreath which would reduce the impact of high tides and push gravel back onto the beach.
However, Mr Mackie fears that without Moray Council's help then the whole Kingston village could become lost underwater forever.
He said: "I believe if nothing is done, then we will become the Atlantis of the north in fifty or sixty years.
"There seems to be a problem with everyone waiting till the worst happens and then sorting it out afterwards but something needs done now.
"The council need to look at flood alleviation and need to stop the coastal erosion."
Almost a fifth of Scotland's coastline is said to be at risk of erosion, threatening property worth in excess of £400 million.
The Dynamic Coast Project has reported that erosion rates are speeding up, with the extent of erosion increasing by 39% since the 1970s.
The SCAPE Trust (Scottish Coastal Archaeology and the Problem of Erosion) is monitoring numerous coastal heritage sites at risk.
They include Findlater Castle, in Moray, the last few remains of which cling to cliffs about 16 miles east of Kingston.