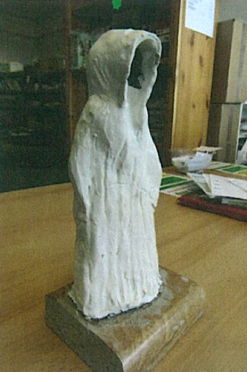 A ghost who is said to appear to single men driving alone on a remote stretch on a Shetland island is set to receive the celebrity treatment with a life-size statue.
The White Wife of Watlee is very much part of Unst folklore and has even had a local ale named after her.
Now the island's community council has lodged plans to erect a 5ft 6ins tall statue in the shape of a hooded figure along the stretch of road near the Brig of Watlee.
The idea was first hatched by local artist Eric Burgess-Ray, who has produced a clay model of what the ghostly statue would look like.
Depending on how the planning application progresses, he said he was keen to have the statue in place sooner rather than later to catch this year's tourist season. "People like a good ghost story," he said.
Local community council chairman Gordon Thomson said the statue would add another "quirky" attraction to the "island above all others".
Notable Unst fiddler Steven Spence is one who claims to have had a real life encounter with the White Wife.
Spence was driving home in his van from Baltasound to Uyeasound around 9pm on a dark January night about 20 years ago when he was visited by the spectral apparition.