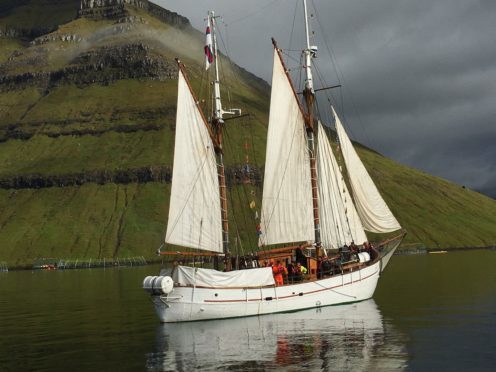 A flotilla of historic fishing boats sailed into Shetland as part of celebrations to mark the centenary of the Faroese flag.
Led by the Grimsby built smack Westward Ho, the vessels arrived in Bressay Sound from the west coast of Norway on their journey from Denmark.
The ships – two of which date from 1884 – visited Lerwick yesterday and Thursday, with locals invited to explore the vessels.
Once docked, author John Goodlad presented each vessel with a copy of his book The Cod Hunters, a large part of which deals with the activities of Shetland smacks fishing around the Faroe Islands.
The visit from the historic ships came courtesy of Faroese Association of Wooden Sailing Ships, or Felagið Føroysk Træseglskip.
A spokesman said: "Our bonds with Shetland are long-standing and very close, not least through the many aspects we share in our maritime history and heritage.
"While in Lerwick the ships are open to the public so people can visit the seven ships and speak with members of the crew about the ships and the old relationship between Shetland and Faroe Islands."
Five of the seven vessels that visited Lerwick had been deemed worthy of preservation by the National Museum of the Faroe Islands.
The Johanna and the Westward Ho were built in England in 1884.
There were over 130 smacks active in their heyday in the Faroe Islands, but today only Johanna and Westward Ho survive.
They were joined by the Dragin, built in Copenhagen in 1945, and the Thorshavn, which is five years older.
Two motorised boats also featured in the fleet – the Heimdal and Norðan, designed and built by celebrated boat builder Lias í Rættará in Torshavn in 1919 and 1945 respectively.