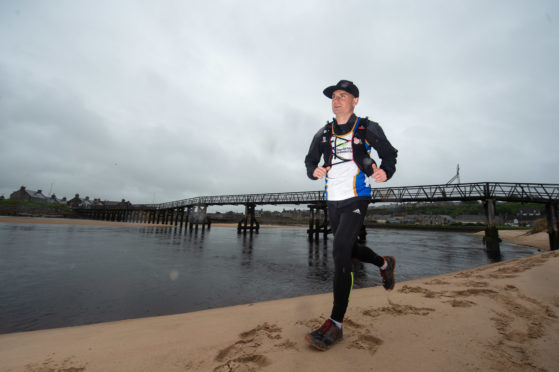 An officer from RAF Lossiemouth has become the first person ever to run the entire NE250 route.
Corporal Jon Ward set off from Glenshee on Friday in his bid to complete the ardous tourist trail, which consisted of 260 miles of roads, mountains, the coast and difficult terrain.
The 33-year-old had already pushed his body to the limit on a 216-mile endurance challenge spanning the east and west of Scotland in less than 100 hours.
But he labelled this as his "toughest" task yet as he pushed himself to run more than 40 miles a day.
Fuelled by visiting friends who joined him on some parts of the journey and cans of cold Irn-Bru, Cpl Ward ran through the north east of Scotland from Cairngorms to malt whisky country and on to the coast before returning back to Cairngorms.
After finishing up at about 4pm yesterday afternoon, Cpl Ward looked back on six days of adventure and pain with a sense of relief and pride as he completed something that no other person had done before.
He said: "It's a weird one now it is done as it feels like an unbelievable achievement but also just like another training run.
"It is incredible as I can now say I am the first in the world to complete it. There is a little bit of history and a legacy for me as well.
"My toughest day was day four, running along the A98 in difficult weather and with not much scenery.
"Then on the final day, running up Cairngorms, I got the chance to appreciate the beautiful scenery."
The serviceman, who is originally from Hereford, works as a logistics mover, preparing Typhoon jets for assignments at RAF Lossiemouth.
At last count, he has managed to raise a little over £1,600 for the RAF Benevolent Fund, which celebrates its 100th anniversary this year.
To donate, head to  www.justgiving.com/fundraising/jonathan-wardnec250.