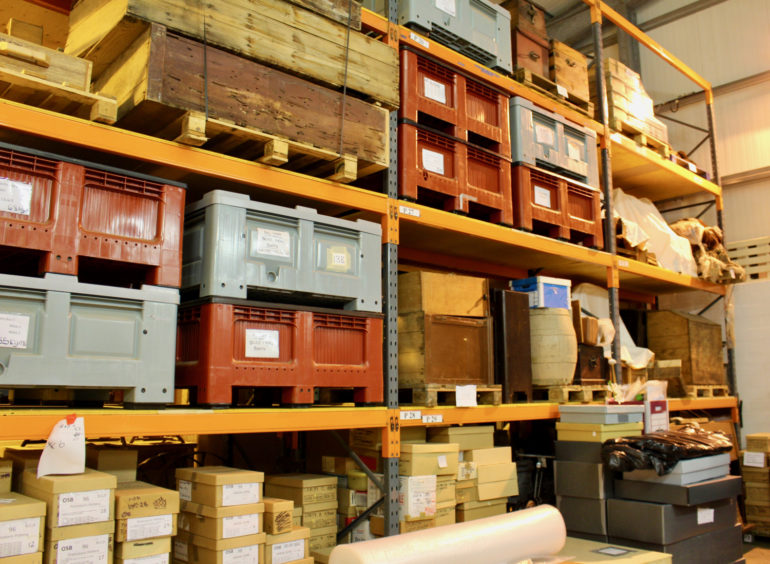 The museum store at Staney Hill has provided space since 1998 for thousands of artefacts and items that are not on display in Shetland.
There are around 186,500 objects in total within the store, although some 165,000 of these are uncatalogued archaeology items, from bone fragments to pieces of pottery.
But it has effectively run out of space, meaning that donations of large items are proving to more and more difficult to take in.
The problem of space is not a new one, but the chief executive of store operator Shetland Amenity Trust says it is "becoming more of an issue of late", with accessibility and safety two main concerns.
The lack of free space was raised at a recent meeting of amenity trustees, where chief executive Mat Roberts remarked that the "Tardis-like qualities of the museum store have now been exhausted".
The store is run by the trust, which also operates the museum at Hay's Dock, although it is Shetland Islands Council which pays for the service as it owns the items.
Roberts described the store as an "Aladdin's Cave", and it is a treasure trove which sees researchers from across the globe come by for a visit – particularly for the textiles.
Curator Carol Christiansen oversees the day-to-day running of the store alongside another member of staff, and the building – which is kept locked – can be opened to the public by appointment.
She said around 200 or 300 items are donated on average a year – pieces that are "as small as a button, or as a big as a boat".
"We are constantly juggling people and objects," Ms Christiansen added.
"If you turn up with a relatively small item it can accommodate that, if you turn up with a Welsh dresser or a cannon – that's a little more difficult," Roberts said.
---
Local and Proud: Follow our new Facebook page dedicated to the Highlands and Islands
---
"It is being able to provide environmentally controlled storage for paintings, for clothing, for wooden artefacts, artefacts that are photosensitive. It's quite a specialist space. It's an Aladdin's Cave, but it's not big enough, and it hasn't been big enough for a long time."
The council's lease on the building runs out in 2023 and an SIC property strategy – which is yet to be approved by councillors – recommends that the local authority does not extend it as the building is "no longer fit for purpose".
It also recommends that a business case is established to prepare for its replacement ready for occupation no later than 2023.
Neil Grant, director of the council's development services, said: "We're aware of the pressures of space at the Staney Hill building.
"The Amenity Trust does hold a service level agreement with the council to properly store artefacts, and the council is currently looking at all its options to support the trust in that."