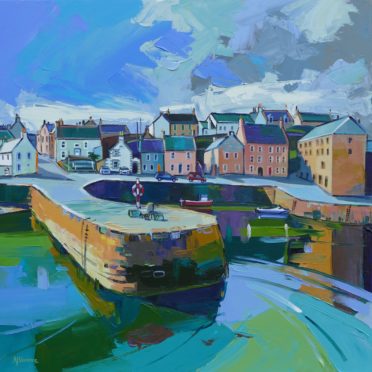 One of the exhibitors at this month's Aberdeen Art Fair, which is returning to the recently-refurbished Music Hall after a four-year absence, is still working on some of her Aberdeenshire landscapes for the annual event.
And several of her creations are only being sent to the framer today!
Perthshire-based Audrey Slorance has an honours degree in printed textile design and her artwork has been sold to studios in the UK, Europe and the USA.
However, her first love is painting, with her main inspiration the Scottish countryside and architecture where she looks for a strong contrast between light and shade and interprets the constantly changing colours and moods of the seasons and weather in bright hues in acrylics.
Ms Slorance's paintings are informed by pher ersonal experience of walking in the landscape and sketches and photographs she has taken help with ideas.
Her work is in private collections as far afield as Europe, USA and Australia.
The Aberdeen Art Fair, which takes place from August 30 to September 1 this year, will, for the first time in its history, offer free entry throughout the weekend.
The opening times are as follows: Friday, August 30, 6pm-9pm; Saturday, August 31, 10 am-5.30pm; and Sunday, September 1, 10am-5 pm.