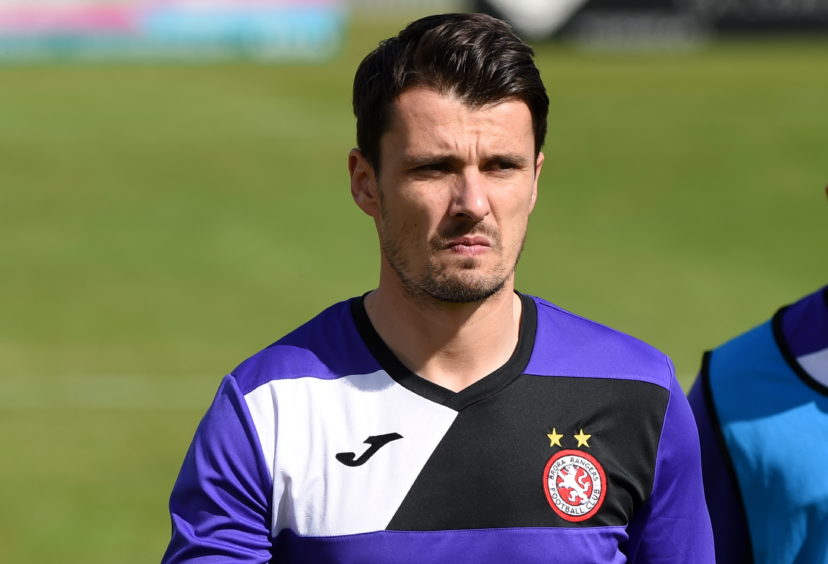 A Highland League manager medicated himself with Jaffa Cakes as he hallucinated while running more than 80 miles in the space of 18 hours.
Brora Rangers player-manager Steven Mackay was overwhelmed by the reaction to his 81.6 mile running challenge from Inverness to the Cattachs' Dudgeon Park.
Mr Mackay started the ultra-marathon from his Inverness home at 8pm on Friday, which was his 39th birthday, with the challenge having to be completed within 24 hours.
He comfortably met that target, arriving at Brora's ground shortly after 2pm on Saturday with a time of 18 hours 12 minutes.
The former Ross County player set himself the challenge following the cancellation of the Loch Ness 360 ultra marathon in May due to coronavirus, which he had been signed up for.
Following 37 weeks of training, he was thrilled to complete the challenge, which has raised more than £16,000 for the Cash for Kids charity.
He said: "It's quite surreal to sit back and reflect on it. Even driving home from Brora, I couldn't actually believe I had run it.
"I'm delighted to complete it under the target time, and for there not to be any disasters along the way.
"Seeing so many people at the end was a lovely moment – it got a bit overwhelming. I was so relieved to have completed the task, and not failed after all the training I have done."
Mackay had not run beyond the 40-mile mark in his training, and the Invergordon-born forward admitted there were testing moments.
He added: "Having done 40 miles, I knew there would be points after that which would be quite dark and challenging.
"At Bonar Bridge I was experiencing sharp pain in my shins, which shot down towards my foot.
"I was a bit concerned, but Craig Campbell mustered up a strapping to put some support in there, and what a difference it made.
"At Spinningdale, just coming up for Evelix, I felt my sugar levels were low and I started to hallucinate a bit.
"I ate a full pack of Jaffa Cakes, which I have never done in my life, and took some fluids which gave me the fuel I needed."
The Highland League boss was supported by a number of past and present team-mates, including Brora assistant Craig Campbell, first team coach David Hind, former Nairn County striker Conor Gethins and recently retired Ross County midfielder Don Cowie.
Mr Mackay added: "I would have struggled doing it by myself. Introducing people at critical points was key.
"I also had my son Dylan and his friend Cole, who joined us with about 15 miles to go. They all made it quite enjoyable."