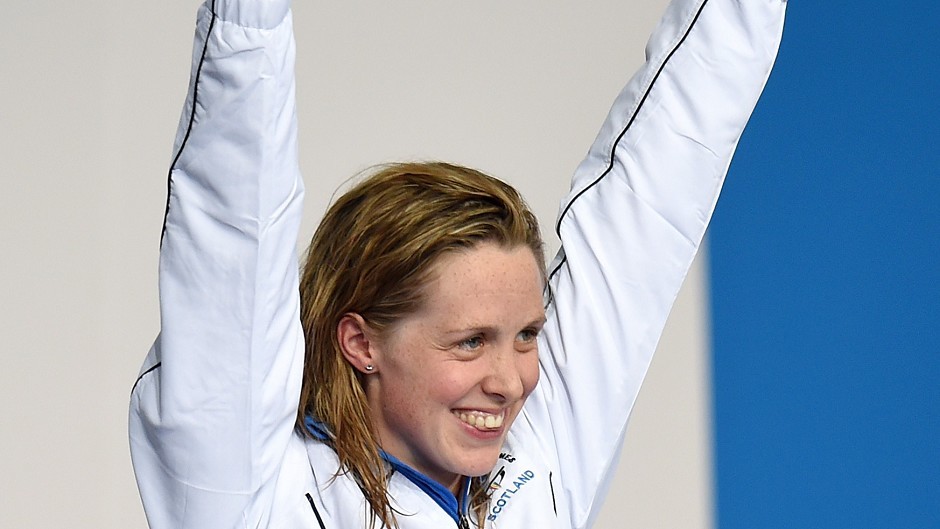 Messages of congratulations have flown in from across the north-east for Inverurie's Hannah Miley after she took gold on the opening day of the Commonwealth Games.
Orla Adams, who has known the swimmer for seven years, said she was delighted and "really proud" of the 24-year-old who smashed the games record for the 400 metre individual medley with a time of 4min 31.76sec.
Miss Adams was one of many at Inverurie's Garioch Amateur Swim Club who quickly ran from training in the pool to watch the race.
A crowd of coaches, swimmers and lifeguards gathered around the television in the gym to watch Scotland's golden girl clinch glory.
According to Miss Adams, watching Hannah retain her title was "very nerve wracking", but in the end there were scenes of jubilation in Inverurie.
"There were massive cheers when she won and a few tears were shed as well. We've been completely behind her and even if she only got silver we'd have still been proud of her," Miss Adams said.
"Hannah has trained so hard and really deserves it, we are so pleased," she said.
Duty officer at Inverurie Swimming Pool, Andy Mitchell, was also "delighted." He said: "We're really proud of her and are looking forward to congratulating her when she's back in home waters.
"We'll be watching and cheering her on for the rest of the games and wish her the best of the luck for her upcoming races."
Filippo Antoniazzi, director of sport at Aberdeen's Robert Gordon University, where the swimmer studied, said: "We are all thrilled at RGU that Hannah has been able to defend her Commonwealth title – she deserves it for all her hard work and dedication over a long period of time."
He added that she was "a credit to the university, the region and the nation".
Hannah's local MSP and First Minister Alex Salmond also congratulated her via Twitter: "Delighted for my constituent Hannah Miley winning the 400m individual medley! Aberdeenshire strikes Gold!"