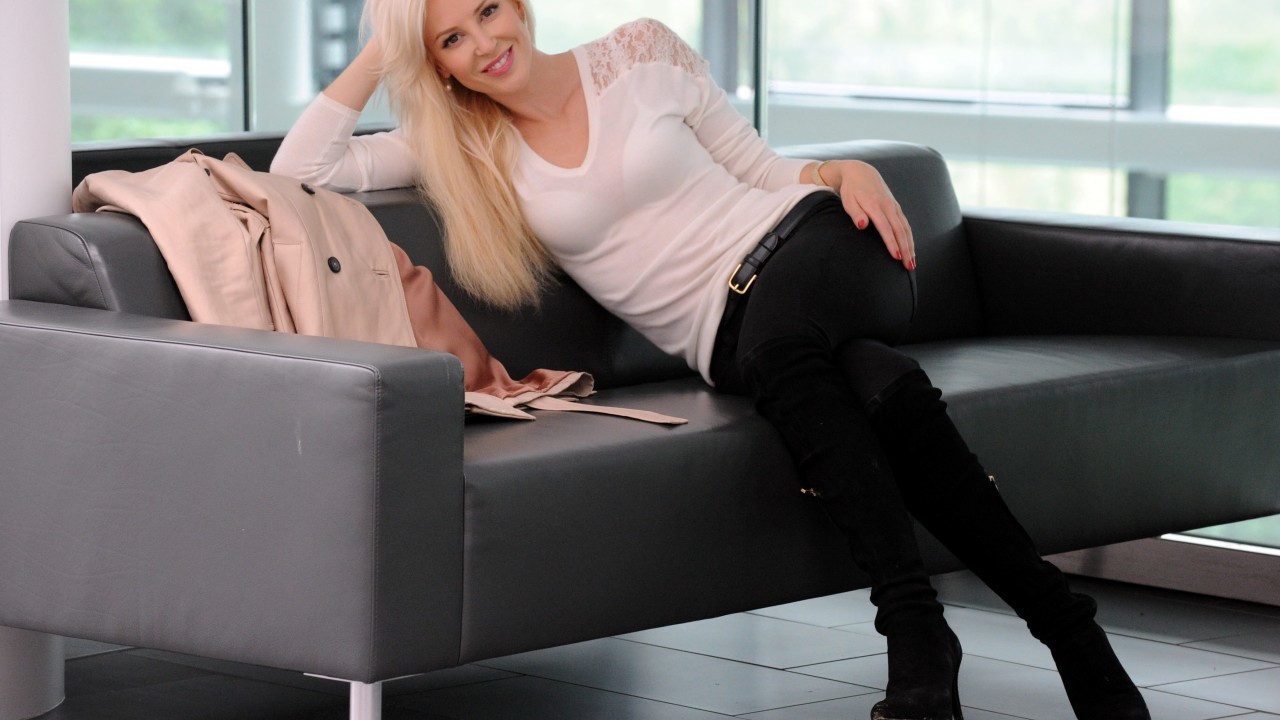 "Oh I just love this," said Louise Linton, inhaling the damp fresh air at the banks of the River Dee.
Ominous storm clouds threatened above, but the Edinburgh-raised Hollywood actor just tilted her chin up to face them, eyes closed blissfully.
When I had met Louise at Aberdeen train station that morning, I felt a brief pang of guilt for dragging her up to the soon-to-be rain-drenched north-east for an interview about her flourishing career. I needn't have worried. The 28-year-old Scot was clearly in her element.
"Honestly, when I'm home in LA this is just the kind of sight I fantasise about. It's just so romantic," she beamed, a slight mid-Atlantic twang to her voice.
If you're not from the central belt, you might not yet be too familiar with Louise's name. Edinburghers have tracked every moment of her career in the States since she graduated from Fettes College. But the way her career is snowballing, we'll all be joining the fan bandwagon soon, making sure to stake a claim on her as one of our own.
After all, she's already shared movie billing with Meryl Streep and Tom Cruise, starred in a rom-com and a thriller, and most recently been directed by Warren Beatty, for crying out loud.
http://www.youtube.com/watch?v=M5_EPdix144
A GAMBLE WORTH TAKING
The rain looked like it could pour at any moment so we moved indoors to continue the photo shoot at Robert Gordon University's Riverside East building.
She could strike a cool pose, but I found Louise refreshingly open and animated from the get go. Her fascination with becoming an actor in LA, she explained, was piqued at a young age when her father – who works in the property and hotel industries – would host parties each year for American theatre students who performed in the Edinburgh Fringe festival.
"From the age of six, I was meeting these pearly-toothed, tanned Americans who were so optimistic and full of beans, and they spoke of this place where they lived on the hillside of Malibu and I just though, 'I want to go there'," Louise explained – her equally pearly-teeth and Hollywood poise drawing the gaze of many passers by as we spoke.
"I was supposed to go to university in London, but I just fell in love with LA and California. They were so big, bright, sparkly and full of promise."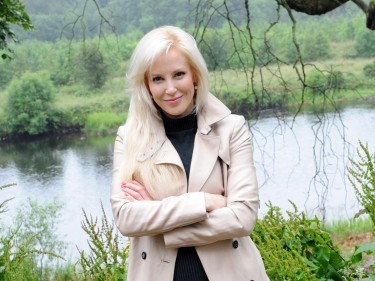 And so, once graduated from Fettes and after a six month charitable expedition to Northern Zambia as part of a gap year, Louise made her way out west where she completed a journalism degree, then another in Law – brains as well as beauty.
While her Law degree has proven very handy for negotiating contracts and the production sides of her work, she admits that both degrees were especially useful in buying her time to get a green card, Screen Actors Guild membership, and build up a portfolio of acting work, initially as an extra.
Securing an agent was also tricky, but with persistence, well over 500 resumes and expensive FedEx bills, she was picked up by a small time manager who introduced her to her first agent. She quickly proved to be a gamble worth taking as her first audition brought success – a named role in an episode of CSI:NY alongside a 15-year-old Shailene Woodley of Divergent fame.
This was followed quickly by another named, albeit small, role, this time in Robert Redford's Lions for Lambs alongside the aforementioned Ms Streep and Mr Cruise.
"Every time you think 'I've made it', but of course, you haven't. It's just a small role," Louise said. "Of course no one's going to give you a lead role straight out of the gate."
But she's learned to harden herself to the harsh sides of the industry.
"It's not a meritocracy. A lot of people who are mega-talented will never make it. But I will say, if you have zero talent, and you're a phoney, people will smell it on you and it will make you a pariah in the business," she said.
As the years rolled on, and recognition of her acting skills steadily grew, the roles got bigger. Soon she picked up large parts in the horror Echo ("I loved filming it, but I was too scared to watch it"), comedy Screwball, and Christopher Walken's religious conspiracy thriller, The Power of Few. In perhaps her most high profile job to date, she will soon be seen in the role of Hollywood starlet, Betty, in Warren Beatty's untitled Howard Hughes film, which is slated for a May 2015 release.
Lead roles have come in too, namely the top billing in sci-fi Scavengers, and rom-com Serial Daters Anonymous. On-set work, Louise explained, is never as glamorous as it looks, but her love of rom-coms (especially Pretty Woman) propelled her through the long shooting days. And acting opposite the impossibly handsome Mad Men star, Sam Page, didn't hurt.
"There was so much chemistry with Sam. He's very charming," she confided from across the table at Moonfish Cafe where we had since relocated.
"It's funny though, because we were both in really serious relationships when we were filming. So when the cameras weren't rolling, we were really mega-professional, like colleagues. But the minute the cameras start rolling, the chemistry was really intense. It's a really interesting dynamic."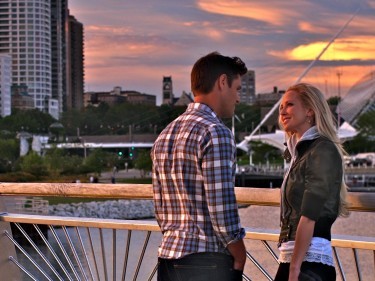 HOLLYWOOD IS HYPER-CONNECTED
From work relationships, we shifted focus to those of a more personal nature – a topic which Louise admitted she's less comfortable talking about. The stories of her nearest and dearest, she feels, aren't really hers to tell.
Here's what we did touch on: Louise's Edinburgh upbringing was a dream-like childhood, but one with clear boundaries which she's thankful for.
"We were a happy family. But we were also disciplined and very respectful, but very happy children. Just the right balance – something very 'navy blue' Edinburgh about the whole thing. You know, conservative."
Her mother died of breast cancer when Louise was only 14, a fact other interviewers during her week-long trip back to Scotland have grabbed on to, leaving her a little wary of discussing the topic.
Losing a parent that young must have been awful, I said, trying not to prod too much.
"Yes it was. She was a very strong and selfless character," she offered.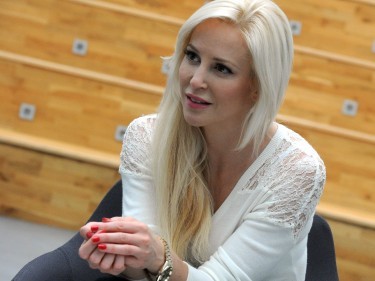 How about glitzy actor friends, I asked? She was slightly cautious about this one too, but happily shared her observations on some of the bigger stars she's dined with (Mel Gibson: "extremely gentlemanly, charming and wonderful dinner company") and been directed by (Warren Beatty: "the sweetest, most engaged listener").
She also shared that she's recently struck up a close platonic friendship with a major Oscar-winning male actor who she met on a boat at this year's Cannes Film Festival. She had been texting him on the train up north that morning, she added.
Beyond that, she was admirably taciturn. She would love to name-drop, but she values the friendship too much to risk losing it.
"I mean, Hollywood is this many people," she continued, cupping the small sugar bowl between us.
"And they're all hyper-connected. So, it's okay to say that I spoke to Nicole Kidman in Cannes because she's not my pal. But if this article came out with (the mystery actor's) name in it, and he somehow saw it, I don't know how I wouldn't be embarrassed. I really treasure those friendships."
Rubbing shoulders with A-Listers aside, Louise believes this year has been a real turning point in her career. A significant factor in this is the work she's now doing through her production company, Stormchaser. She's currently in the post-production stage of her maiden project, the thriller Intruder which she also stars in, though she was adamant the company isn't going to be a vehicle for her acting career.
She's also just launched her very own handbag collection with Dunmore of Scotland. Add to this two more acting gigs coming up this year – one a political thriller; the other a lead in a classic horror remake – you can understand why you will very soon start to know Louise's name.
She's not forgotten her Scottish roots though. Far from it. As we headed back into the fresh air, the gloomy sky above once again brought a curious smile to Louise's face.
With your producer hat on, I wondered aloud, do you think the north-east make for a good film set?
"Absolutely. As we've walked through Aberdeen I've seen everything through a lens," she said.
"My producing partner and I are actually looking for scripts set in Scotland. We really want to shoot here because the locations are exquisite. Production value? Out of this world. Out of this world."
Louise Linton's new handbag collection – The Linton Collection – will be available soon from Dunmore of Scotland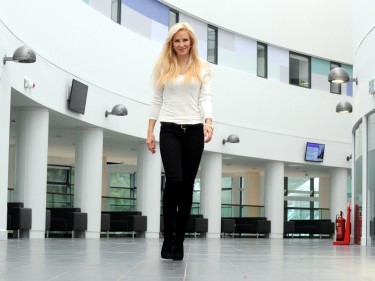 Extra time…with Louise Linton
On being Scottish in LA
"They all wish I had a heavier accent, so sometimes I'll put on a real brogue and they go 'oh my God, that's so adorable. Like, you should talk like that all the time'. But I've lost a bit of my Scottish accent every year because I've had to learn to speak like an American on cue."
On studying law, while simultaneously doing extra work on James Woods' legal TV series
"I would sit there in these freezing sets in 20th Century Fox, with a pile of law books because I was studying it at the same time. James Woods came over and said 'what are you doing?' I said, 'well, I'm studying law'. He just replied, 'so why are you an extra'? I just said, 'Because I don't want to be a lawyer, I want to be an actress.'"
On Warren Beatty:
"When this guy writes, he writes with such specificity. And the characters are so well explored before they ever come to life. And then as a director, he's got the perfect balance of strength and warmth. So people are very deferential to him."
On Mel Gibson
"My best girlfriend in LA is very close with him, so we all ended up at one dinner together. He's lovely and very down-to-earth. I think he went through a really bad time with alcoholism, but he was certainly extremely gentlemanly, charming and wonderful dinner company."
On Hollywood:
"It's not a meritocracy. A lot of people who are mega-talented will never make it. But I will say, if you have zero talent, and you're a phoney, people will smell it on you and it will make you a pariah in the business."
On partying at this year's Cannes film festival
"That was the moment for me this year. I was sitting there with, and Nicole is over there, Cate Blanchett is beside me and so on. It felt surreal. I just tried to, and try to, be as emotionally present as possible, and just absorb and enjoy and feel appreciative."
On shooting a movie
"At the end of the day on a film set you feel exhausted, but in the best way. Like you couldn't have had a more full day than the one you just had. Even if there's dramas and arguments, ultimately it's a group of people coming together and they share the same end goal."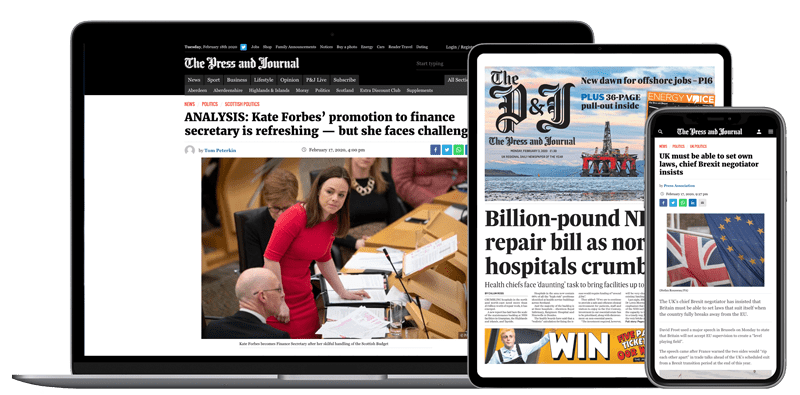 Help support quality local journalism … become a digital subscriber to The Press and Journal
For as little as £5.99 a month you can access all of our content, including Premium articles.
Subscribe