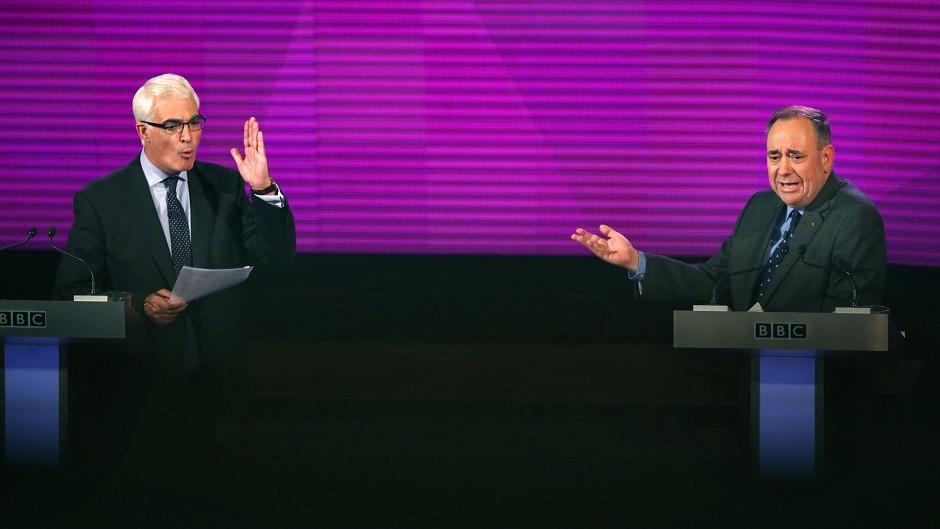 Alex Salmond and Alistair Darling clashed for a second time last night in one of the most important debates in Scottish history.
Everything was at stake for the SNP after the first minister's lacklustre performance three weeks ago, when many observers felt he failed to answer the former Labour chancellors challenges about which currency an independent Scotland would use.
In a heated debate in front of a 200-strong audience at the Kelvingrove Art Gallery and Museum in Glasgow currency, the NHS and North Sea oil dominated the opening topics, as expected.
Mr Salmond repeated his previous assertions that a formal currency union would be best for Scotland and the UK.
He said he would go into any negotiations with Westminster backed by the "sovereign will" of the Scottish people.
But Mr Darling, head of the pro-union Better Together campaign, said no matter what Scotland wanted, it would take both sides to agree a formal currency union.
With just 23 days to go till referendum day both sides realised they had everything to play for.
The Yes campaign knew that Mr Salmond had to perform better than their first debate and land some knockout blows to keep their dream of independence alive.
The SNP leader enjoyed the better of the early exchanges.
With the polls still in favour of the union, Mr Darling was on safer ground and he concentrated on what he saw as the economic benefits of remaining part of a bigger, richer whole, versus the uncertainty that he said separation would have.
The Kelvingrove debate followed a new poll which found 72% of pensioners were worried about their state pensions in a separate Scotland.
Only 12% said they trusted Alex Salmond on pensions, two points below those who trusted Chancellor George Osborne. The largest shared (24%) trusted Mr Darling.
The debate kicked off with on opening statement from Mr Salmond having won the toss.
He told the audience that the Scottish Parliament could step in to help the threatened Ferguson ship builders.
But he added: "There is much, far too much that is still controlled by Westminster.
"We could not stop the bedroom tax, we can't stop illegal wars, we can't stop the poor and disabled bearing the brunt of the bedroom tax, we can't stop the spread of food banks in this prosperous country," he said.
"Now we have the opportunity to change all that."
Mr Darling said Mr Salmond was asking people to take his word on a number of issues for which he had no answer such as what would be his plan B on currency.
"The basic difference between Alex Salmond and me is that my first priority is to create a fairer and better society, his is to create a separate Scotland no matter what the risk and the cost," he said.
However, Mr Salmond claimed he had "three plan Bs" on currency.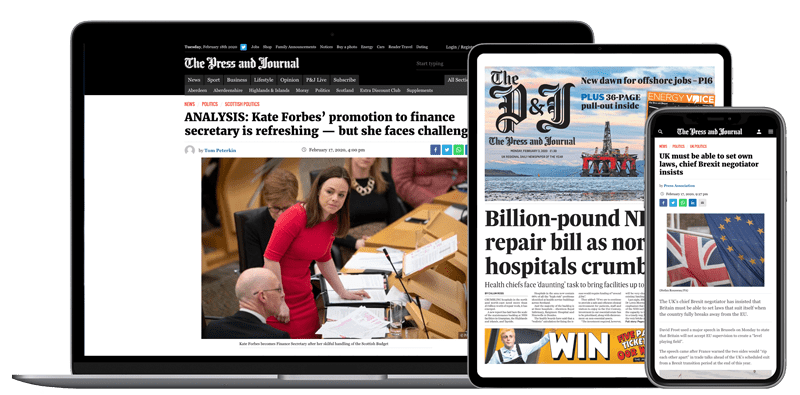 Help support quality local journalism … become a digital subscriber to The Press and Journal
For as little as £5.99 a month you can access all of our content, including Premium articles.
Subscribe