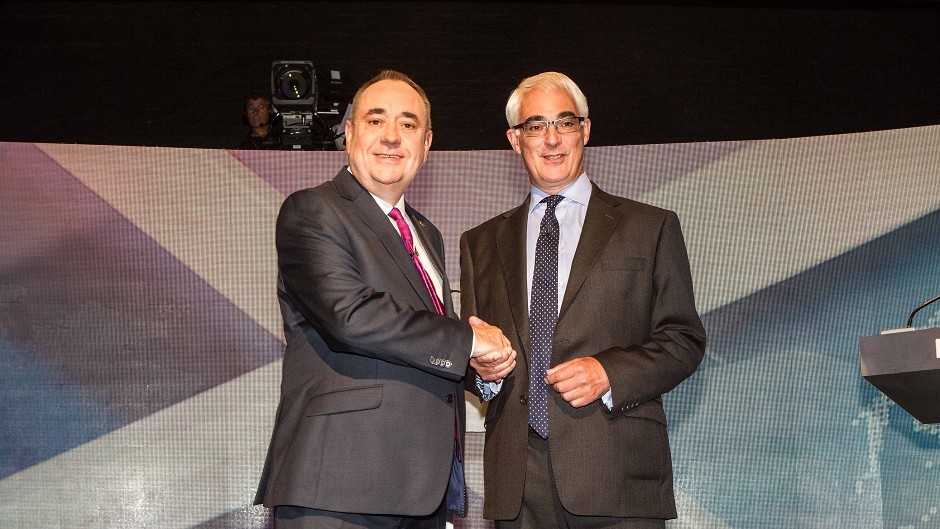 As BBC's Scottish independence debate got under way both Alex Salmond and Alistair Darling were given two minutes each for their opening gambits.
Salmond opened by talking about the Thatcher years and what Scotland could achieve on its own.
Then Darling had his moment, and he chose to talk about Alex Salmond. Of course, Twitter immediately erupted.
Check out some of the reaction here:
Darling pitched it completely wrongly. It's all about Salmond, Salmond, Salmond – should be about Scotland. #bbcindyref

— Psmith (@Rigadonson) August 25, 2014
Yawns, Darling #bbcindyref

— Fiona Purchase (@hiyaitsfiona) August 25, 2014
#bbcindyref Salmond offers a vision of the future whilst Darling plays the man not the ball – where's your positive case Alasdair?

— Andy Raffan (@AndyRaffan) August 25, 2014
Darling attacks Salmond then currency then oil. #predictable #ProjectFear in overdrive. #bbcindyref

— Jamie Szymkowiak (@jamieszymko) August 25, 2014
Oh thank goodness Darling has stopped taking about Salmond so he can talk about currency. Oh sorry back to Salmond #bbcindyref

— naebd (@naebD) August 25, 2014
https://twitter.com/vonnvonn/status/503989478428770304
#bbcindyref Darling is obsessed by Salmond.

— Bill Cruickshank (@BjCruickshank) August 25, 2014
#bbcindyref So, Darling has set the scene..attack the man! 1 million have signed up to say it's what we want you fool..on stilts!!

— Ralph Roberts (@NoConceptOfTime) August 25, 2014
Dang, Alistair Darling is getting bodied here. #bbcindyref

— Patrick (@PrayForPatrick) August 25, 2014
https://twitter.com/emmaconw4y/status/503989475740246016