 A FITNESS instructor accused of carrying out a campaign of physical and sexual abuse against two schoolgirls walked free from court yesterday.
There were emotional scenes as a jury of four men and 10 women acquitted Norman McConnachie of the charges he faced.
The 42-year-old wiped the tears from his eyes as the verdicts were read out, and three of the jurors broke down as the family of the former Royal Marine cried out in relief.
Speaking last night at his home in the Aberdeenshire village of Newtonhill, Mr McConnachie said he felt justice had been done "after the false allegations that were made against us".
He had been on trial accused of wilfully ill-treating two youngsters in a manner likely to cause unnecessary suffering or injury to their health.
He was also accused of sexually assaulting two girls.
Mr McConnachie had always maintained his innocence and his lawyer, Gregor Kelly, said yesterday the two-week trial had been particularly "harrowing" for him.
Until last week, Mr McConnachie had been facing the child-cruelty charges alongside his wife, Rachel Boyd.
However, after hearing evidence from the second complainer, the Crown withdrew the indictment against her.
Yesterday, jurors took three-and-a-half hours to return a unanimous verdict of not guilty on both of the sexual assault charges.
They also found the two child-cruelty allegations not proven.
Mr McConnachie smiled and nodded at the jury before leaving the dock to embrace his wife, who had been by his side during the trial.
During the case, Aberdeen Sheriff Court heard Mr McConnachie started his military career with 45 Commando based at RM Condor in Arbroath.
In his police interview, which was read out in court, Mr McConnachie said he had served in Bosnia, Northern Ireland, Germany, Somalia and Angola, before leaving the forces and building up his business as a fitness instructor.
He told officers his business required him to work with schools such as Kincorth and Torry academies, as well as private Albyn School.
He also said he worked closely with children suffering from conditions such as autism and myalgic encephalomyelitis (ME).
Last night, an Aberdeen City Council spokesman confirmed that Mr McConnachie had carried out fitness sessions on a few occasions with one secondary school in the city four years ago.
Councillor Ross Thomson, the local authority's vice-convener of education, culture and sport, said there was no reason that he should not be considered for work in the future.
Mr Thomson added: "He has been through due process and through the courts. It will have been a difficult time for him and he will be trying to get his life back to normal and part of that for him will be the military fitness training."
Giving evidence, the two complainers told the court that Mr McConnachie would subject them to horrific ordeals such as being dragged through snow, dog faeces and urine.
One girl also claimed she had been forced into the North Sea while she was wearing her pyjamas before Mr McConnachie held her head under the water and scrubbed at her with a bar of soap.
She also claimed he attacked her hair with dog clippers because he did not like the colour she had dyed it.
The other child claimed Mr McConnachie had tried to force her to eat from a dog bowl and said he had touched her breasts on several occasions.
Mr McConnachie denied these allegations and, in closing speeches, his counsel, advocate David Moggach, said the girls had conspired together and told a series of lies when in the witness stand.
He advised the jury that "the devil was in the detail" if they closely examined all the evidence heard.
After varying accounts were given by the two complainers, he asked jurors how they could comfortably convict a man based on so much "inconsistent" evidence.
A statement on behalf of Mr McConnachie, of 9 Dunlin Court, Newtonhill, was read out as he was leaving court yesterday.
It said: "Mr McConnachie is pleased that he has been vindicated by a jury of his peers.
"After a harrowing and difficult period for himself and his family, he hopes for time and space to rebuild his personal life and business.
"He would also like to thank his advocate, David Moggach, for his representation."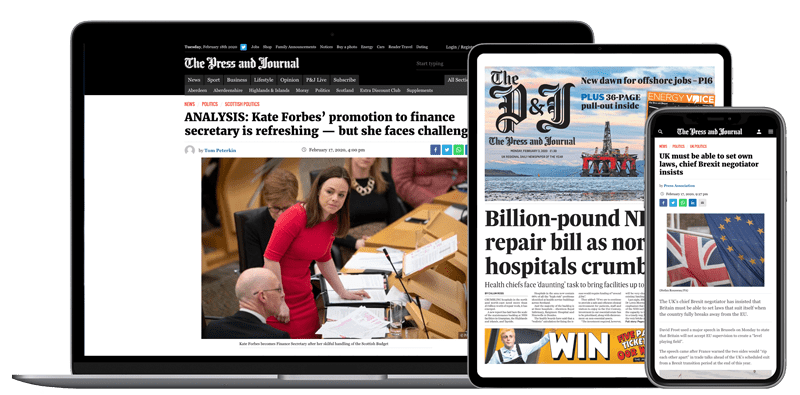 Help support quality local journalism … become a digital subscriber to The Press and Journal
For as little as £5.99 a month you can access all of our content, including Premium articles.
Subscribe