 Among the personal photographs and ornaments that adorn Fiona and Doug MacKintosh's lovely home in Strathpeffer is one which provides a direct link to the past.
The golden-framed photograph shows sisters Catherine and Alice Corbett, original owners of Dunraven Lodge, a stunning detached house.
Built in 1901 – it's thought for the princely sum of £1,000 – it enjoys fine views of the Victorian Spa village of Strathpeffer and the countryside beyond.
The picturesque spa village enjoyed a boom time during the Victorian era when wealthy visitors flocked there to try the waters and enjoy the clean, fresh air.
"I believe the Corbett sisters decided to build a hotel here as the village was continuing to attract visitors in large numbers," said Fiona.
"Apart from a spell during World War II, when it was used as a convalescent home for injured troops, it had been used as a hotel until we bought it six years ago and converted it back to a family home.
"It needed a little TLC and renovating, so we've made improvements such as installing an eco-friendly central-heating system and created a new kitchen which is the hub of the house."
Fiona and Doug are now selling up as they are swapping Strathpeffer for Perth, Australia.
This is the second time they have put the house up for sale in recent times.
"We were due to move to Australia in 2010 and put the house on the market then, but things changed at Doug's work and the move was put on hold," said Fiona .
"But the move is definitely going ahead this time and taking us back to Australia."
Fiona, a nurse, met Doug, who works as a drilling supervisor in the oil industry, when they both worked in Aberdeen.
His job allowed them to travel and they settled in Australia, where their three children were born.
"In Australia, our house was situated on a hill overlooking the city," said Fiona.
"This house is similar in that it is halfway up a hill and has an open outlook. It enjoys views across the village and countryside, towards the Heights of Auchterneed, Leod Castle and Ben Wyvis.
"The rooms here are very large and there is lots of space for the children, so again that reminded us of our house in Australia. There, the emphasis is very much on the outdoor life, and it is the same here, with lots of outdoor activities on offer, from walking and fishing to mountain biking and ski-ing."
Dunraven Lodge, a grand old house on Golf Course Road, is certainly impressive.
Decorated throughout in elegant neutral shades, it has that winning combination of old-school glamour and style teamed with modern luxury.
Priced at offers over £595,000, it is full of attractive features such as deep skirtings, pretty cornicing and with period fireplaces in many rooms.
The windows are large, letting natural light flood in while making the best of the views.
For an older property, the house is remarkably warm and that's due to a combination of good insulation and the installation of an eco central-heating system which is fired by a wood-pellet Ling boiler hopper fed automatically from an adjacent bulk store.
The temperature is controlled by an internal wireless controller. The boiler also provides domestic hot water, the temperature of which can be put to any desired setting.
"The pellet system is very economical and costs around a third of what it would cost to heat the house using oil. Installing it means it has already paid for itself," said Fiona.
The full accommodation of the three-storey house includes, on the ground floor, an impressive vestibule and hallway, large lounge, study, family room, sitting room, dining room, kitchen, laundry, two WCs and ample storerooms.
The kitchen is stunning and features stylish Ashley Ann units, plus a central island with granite worktop which connects to a wonderful round dining table.
There's a host of integrated appliances, including a fridge, freezer, microwave oven and double dishwasher.
A recessed area which once housed a traditional range is now home to a large modern cooker, and makes a charming focal point.
On the first floor, there is a master bedroom with en suite dressing room and shower room; there are three double bedrooms, each with en suite facilities, and a fifth bedroom with adjacent bathroom.
The second floor has six further bedrooms, two bathrooms and a WC.
Outside, a sweeping driveway with ample parking leads to the front of the house, which sits in more than one and a half acres of gardens, planted with established trees and shrubs.
The front of the house has a lovely veranda with seating area and, on the first floor, three bedrooms have their own balcony.
To the side of the house is a patio area that enjoys spectacular views across the countryside.
Outbuildings include a boiler room, store and tool shed.
The village itself has a good selection of local amenities, including a grocery shop, chemist, hotels, 18-hole golf course, primary school and entertainment venue, the Spa Pavilion.
Secondary schooling is available at Dingwall Academy.
The Victorian railway station has been tastefully developed into craft shops, a museum and tearooms.
"We have loved living here and feel privileged to have been custodians of this Victorian villa," said Fiona.
Contact: Harper Macleod on 01463 795006.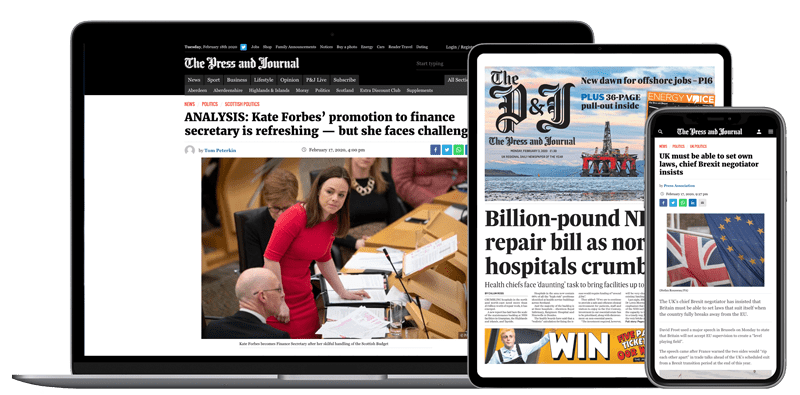 Help support quality local journalism … become a digital subscriber to The Press and Journal
For as little as £5.99 a month you can access all of our content, including Premium articles.
Subscribe