 Five of the UK's biggest investors will launch a £1billion lawsuit against Royal Bank of Scotland next week claiming they were misled over shares bought before the financial crisis.
It is understood Legal and General, the biggest investor in RBS at the time of the rights issue, will file claims on Wednesday, along with Standard Life, Prudential, Aviva and Universities Superannuation Scheme. Former RBS boss Fred Goodwin asked shareholders for £12billion in May 2008 to bolster the bank's dangerously low balance after it bought parts of ABN Amro and lost billions on US credit market assets.
Some of the lawsuits already filed against RBS over the rights issue also sue Mr Goodwin and ex-chairman Tom McKillop and other ex-executives.
RBS is now being run by a new team and is 81%-owned by the UK Government, which still had to bail it out despite Mr Goodwin's money-raising exercise.
The case is likely to take years to resolve and could cost RBS billions of pounds in compensation. It could also involve Mr Goodwin being hauled into court as the bank's key witness.
RBS said yesterday that it would defend the claims.
"While RBS and its former directors made some business decisions that have been criticised, this does not mean that they misled investors or acted illegally," the bank said in a statement.
"We believe we have strong defences to the claims that are being brought against the group and that is why we intend to defend these vigorously and to protect the interests of our shareholders, including UK taxpayers."
The top shareholders have been considering their position since last year, and their decision to file lawsuits should take claims against RBS well over £4billion.
There has been a rush of investors to join several groups set up to take action against RBS because Wednesday will mark the sixth anniversary of when RBS issued the prospectus on its rights issue, making it the deadline for claims under UK law.
Big bonuses, Page 31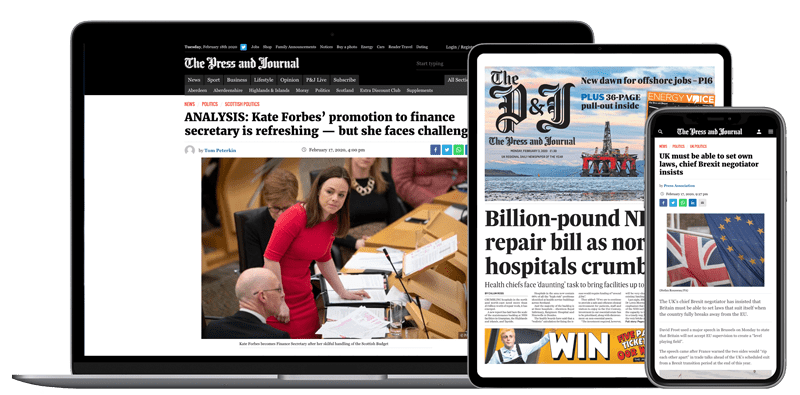 Help support quality local journalism … become a digital subscriber to The Press and Journal
For as little as £5.99 a month you can access all of our content, including Premium articles.
Subscribe