 A HEALTH authority was blamed yesterday for the death of a worker whose car plunged into a loch as she drove home in a storm.
The family of speech therapist Lorna Macdonald believe NHS Western Isles failed to protect her by allowing her to travel in severe rain and high winds.
Police investigators were also accused of failing to protect the scene of crash.
The allegations were made during the closing speeches at the end of a fatal accident inquiry at Stornoway Sheriff Court.
The 26-year-old was heading home from South Harris when her Mazda 2 careered off the rain-soaked road and into Loch nan Uidhean on November 24, 2011.
The weather played a role, but fiscal David Teale and lawyers for the Macdonald family and the health board agreed the actual reason for her car leaving the road would never be known.
Solicitor Angus Macdonald, representing the family, said they strongly disputed that Miss Macdonald would have been driving too fast for the conditions as she was a cautious motorist, as claimed by a police witness.
Witnesses described the weather as horrendous, with strong, gusting winds, torrential rain and roads covered in water.
Miss Macdonald, of Cross Street, Stornoway, was in the car in the loch for more than 40 minutes after the emergency services arrived and evidence was heard that firefighters did not attempt to recover the car as they were not trained in water rescue.
Mr Macdonald claimed that with a 70mph storm predicted, any reasonable employer would have called people at risk, such as Miss Macdonald, to stop them travelling to remote locations.
The solicitor alleged Miss Macdonald's line manager Christine Lapsley tried to put the "entire blame for the decision to travel with Lorna". He said the family were "appalled" at the "shirking of responsibility" which totally ignored the "duty of care that an employer has towards his employees".
The introduction of a new rule which means concerned staff do not drive in winds over 40mph "amounts to an acceptance that Lorna shouldn't have been allowed to travel" that day, he claimed.
Mr Macdonald also said the family felt "badly let down" by police who failed in the "essential requirements" to secure the accident scene and removed the car before the site was examined by investigators.
Lawyer Mark Fitzpatrick, representing the health board, said Miss Macdonald was "probably" going too fast. He said there were "no reasonable precautions whereby the death might have been avoided other than for the deceased to have driven with more care for the prevailing road and weather conditions".
He insisted there were no flaws, defects or failure in NHS Western Isles' policies or practices and nothing the health board or its staff had done contributed to the young woman's death.
He said that although an official Met Office warning of the storm was not circulated, alternative weather advice to the same effect was circulated by e-mail.
Mr Fitzpatrick stressed that Christine Lapsley was not wrong in not phoning Miss Macdonald to tell her not to drive.
Such calls for 70mph winds would have been "over the top" he said.
Sheriff David Sutherland will give his findings in writing "as soon as possible".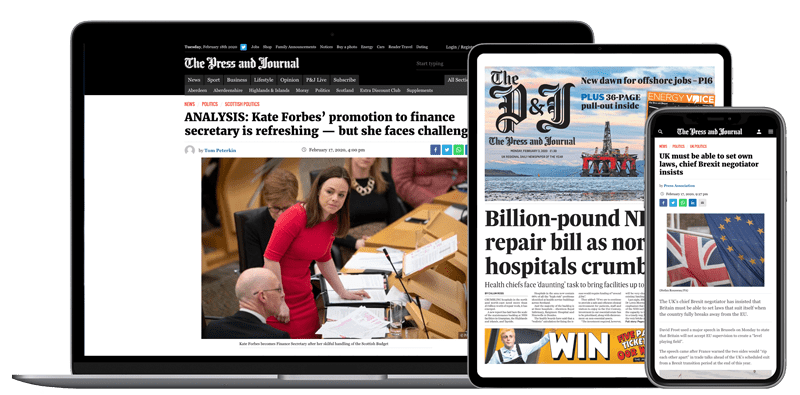 Help support quality local journalism … become a digital subscriber to The Press and Journal
For as little as £5.99 a month you can access all of our content, including Premium articles.
Subscribe