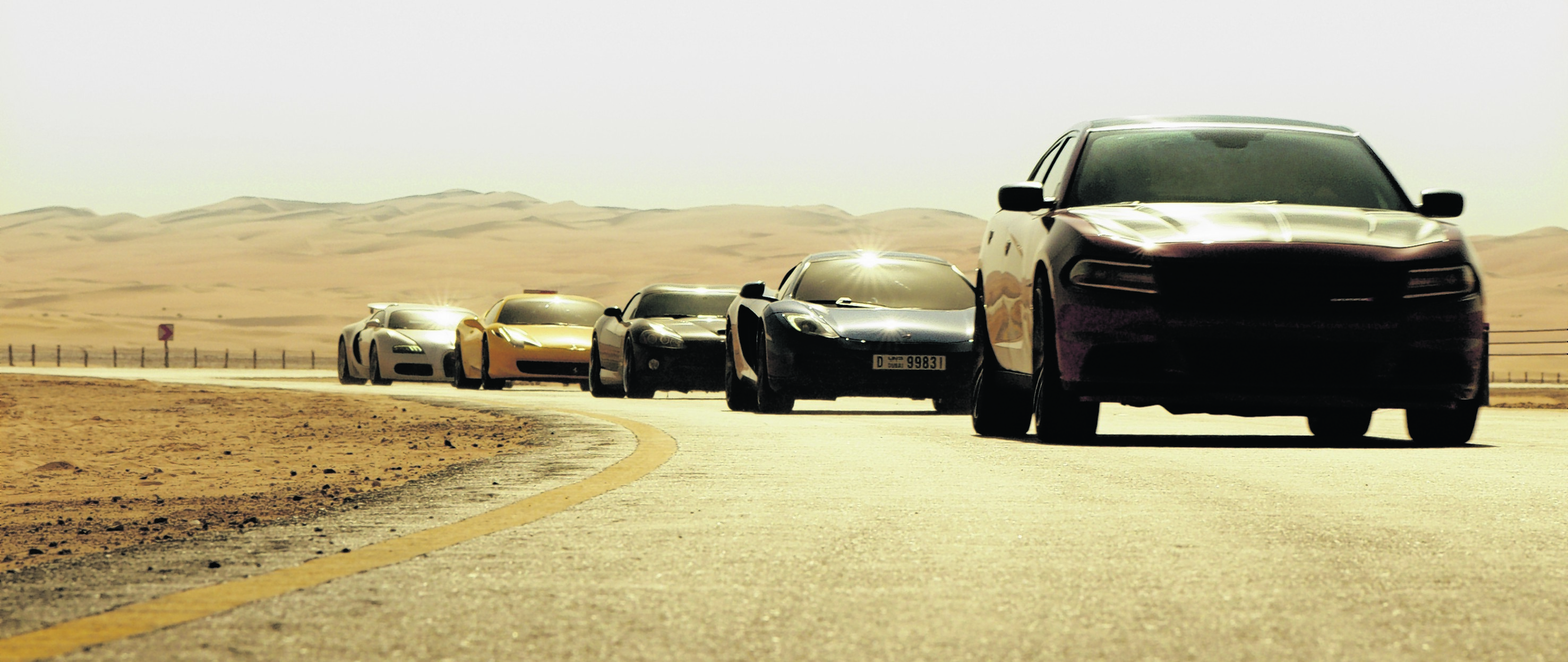 FAST & FURIOUS 7 (12A)
3 stars
It's not the gleaming high-octane motors, scantily clad women or outlandish gravity-defying stunts that will have audiences burning rubber to their multiplexes to see this seventh instalment of The Fast and the Furious franchise.
Instead, it's the final screen appearance of handsome leading man Paul Walker, who died halfway through production, which will guarantee supercharged box-office returns for James Wan's sleek sequel.
Fast & Furious 7 is dedicated to Walker's memory and his unfinished scenes have been respectfully completed using previously unseen footage from earlier films, or by digitally grafting his facial features
on to the bodies of his brothers, Caleb and Cody, who act as stand-ins.
The digital trickery is impressive, and while the joins aren't completely seamless, we suspend our disbelief, which is already hovering in the troposphere after the stunt team mocks the laws of physics to drive one car out of the penthouse of an Abu Dhabi skyscraper and across the void to a neighbouring tower block.
Screenwriter Chris Morgan's desire to top the outrageous set-pieces of previous films repeatedly sacrifices realism, going for broke when he hopes to persuade us that Vin Diesel, Walker and their co-stars could skydive their vehicles into position on a winding mountain road by driving cars out of an plane and opening parachutes attached to their plummeting vehicles at the last second.
It's an understatement when one of the characters whoops: "I can't believe we pulled that off."
The action begins directly after events of Fast & Furious 6, with corrupt British soldier Owen Shaw (Luke Evans) on life support in a London hospital.
Owen's older brother Ian (Jason Statham) seeks revenge against Dominic Toretto (Vin Diesel), Brian O'Conner (Walker) and their crew.
Ian hacks into the computer of federal agent Luke Hobbs (Dwayne Johnson) to ascertain the whereabouts of the team and doles out a near-fatal pummelling to Hobbs in the process.
Meanwhile, Dominic's crew prepare for war.
"It looks like the sins of London followed us home," growls the bad boy, who reunites with fast-talking Roman Pearce (Tyrese Gibson) and technical wizard Tej (Chris "Ludacris" Bridges) to neutralise the threat posed by Owen with help from a hacker called Ramsey (Nathalie Emmanuel).
Fast & Furious 7 stitches together all of the previous films, including a cameo for Lucas Black as Sean Boswell from the lacklustre third chapter, Tokyo Drift.
Diesel, Walker and co continue to display superhuman strength and resilience, surviving spectacular crashes with barely a graze, while Statham plies his usual brand of muscular destruction.
A heartfelt, if protracted, coda between Diesel and Walker provides the former with an opportunity to say farewell publicly to his cinematic brother in arms.
THE WATER DIVINER (15)
3 stars
In front of the camera, New Zealand-born actor Russell Crowe has enjoyed critical and commercial success.
He came to the fore in 1997 as a brutish detective prone to violence in L.A. Confidential.
Successive Oscar nominations as Best Actor for The Insider, Gladiator and A Beautiful Mind, including a win for Ridley Scott's swords and sandals epic, solidified his status as a performer with emotional depth to complement his physical presence.
More recently, he embraced political corruption as a shady mayor in Broken City, sang for his supper in Les Miserables and built an ark as a tormented Noah.
For his directorial debut, Crowe casts himself as a crusading father, who will stop at nothing to locate his three fallen sons, in this fictional historical drama based on the book of the same name, which has been adapted for the big screen by Andrew Anastasios and Andrew Knight.
The Water Diviner is a solid first effort, including well-choreographed scenes of conflict and self-sacrifice during the Gallipoli Campaign in late 1915.
However, his film falls victim to heavy-handed sentiment when it comes to a central romance across the cultural divide that flourishes despite a total absence of on-screen chemistry with leading lady Olga Kurylenko.
Blessed with lustrous cinematography, The Water Diviner is a heartfelt tale of broken men and redemption
The romantic subplot doesn't work and its resolution is unintentionally hilarious, but the rest of Crowe's first foray in the director's chair shows promise.