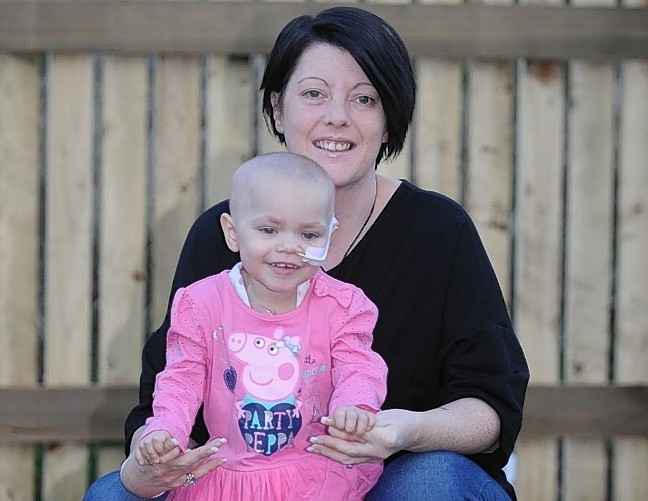 A Moray mum has launched a desperate appeal to raise £100,000 to fund potentially lifesaving surgery for her three-year-old daughter.
Gail Paterson, from Forres, has until the start of June to amass sufficient funds to send toddler Eileidh to America for pioneering cancer treatment.
Ms Paterson, 39, says she is in a race against time to get Eileidh a place on a clinical trial of drugs which won't be available in Britain until next year.
Last May the toddler was diagnosed with High Risk Neuroblastoma, an aggressive form of childhood cancer where tumours spread throughout the body.
Since the diagnosis Eileidh has undergone intensive surgeries and treatments, spending much of the past 11 months in hospital.
But at the end of next month, Eileidh's antibody treatment will end, and if final scans show no evidence of disease then no further treatment will be available in this country to prevent remission.
Ms Paterson explained: "If Eileidh gets the all clear that will of course be great news, but her condition has a risk of remission between 60 and 80%.
"We need to do everything possible to make sure it doesn't come back.
"As a family we will never be able to sit back and relax, that danger will always be there. It could be weeks, months or years.
"If we don't get her the treatment in America and the cancer comes back then I will feel that I haven't done everything I can for her.
"I have been told the treatment is very encouraging in reducing relapses, and British oncologists recommend it.
"But next year is too far away for Eileidh.
"If people could just donate £1 each to us it would make a huge difference, Eileidh needs every possible chance she can get."
Eileidh was born in March 2012, and for her first two years was a healthy, happy girl.
But in May 2014 she started having trouble breathing and Ms Paterson noticed her stomach was bloated, and she had become very withdrawn.
Tests were performed at the Royal Aberdeen Children's Hospital and ultimately it was revealed that the tot had Stage 4 High Risk Neuroblastoma.
The cancer had spread throughout Eileidh's body by the time it was discovered.
Eileidh is currently undergoing immunotherapy at the same Aberdeen hospital, and is the first child to receive such treatment in the city.
Ms Paterson, who has spent the past 11 months "living in hospital", said she recently tallied the different treatments Eileidh, has undertaken in her battle against cancer.
She explained: "Eileidh has been through such a lot.
"I've calculated that over the last year, among other procedures, she's had 31 transfusions, 32 anesthetics and six bone marrow aspirates – which is where they stick a needle into the back of her pelvis.
"In all she has also had 11 radiotherapy treatments, 42 bouts of chemotherapy, 17 of which have been high dosage, and she's had to spend 20 days in isolation."
Despite all that she has undergone, Ms Paterson says Eileidh retains a cheery disposition and enjoys the same things as other three-year-old girls, such as Disney film Frozen.
She said: "She's doing really well in general, despite everything.
"There are occasional hiccups but she's handled the treatment better than we thought.
"A lot of people have been really kind, and Eileidh recently enjoyed a visit from one of the Frozen princesses from Codona's in Aberdeen."
To help pay for Eileidh's trip to America, readers can visit www.justgiving.com/EileidhsJourney.