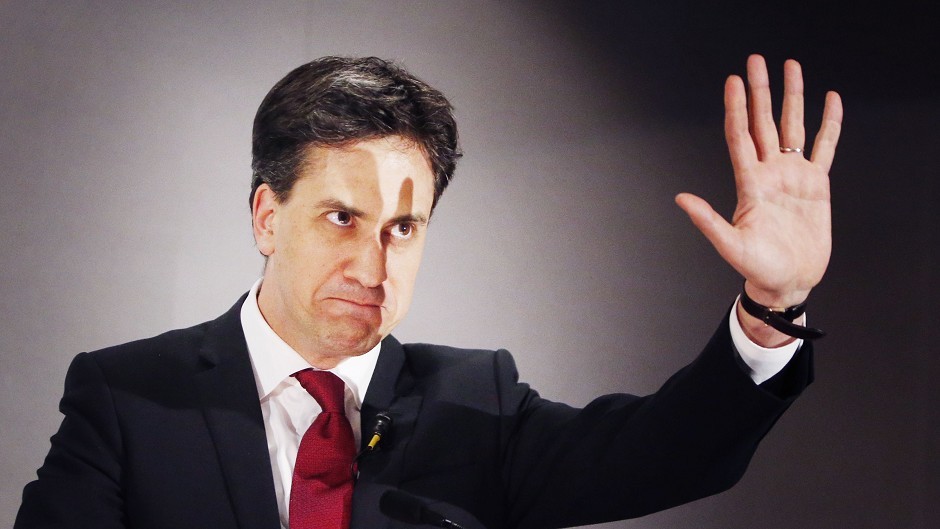 Twitter erupted today as thousands took to social media in disgust at Ed Miliband's bid to take political advantage of the Mediterranean refugee crisis.
The Labour leader took fire at David Cameron's foreign policy, suggesting deaths of hundreds of refugees fleeing North Africa are a supposed 'direct result' of the Prime Minister's intervention in Libya.
Speaking ahead of next month's General Election, Mr Miliband claimed: "The tragedy is that this could have been anticipated. Since the action, the failure of post-conflict planning has become obvious.
"David Cameron was wrong to assume that Libya's political culture and institutions could be left to evolve and transform on their own.
"It should have been avoided. And Britain could have played its part in ensuring the international community stood by the people of Libya in practice rather than standing behind the unfounded hopes of potential progress only in principle."
Genuinely disgusted re Miliband's remarks about Libya. Tasteless and un-statesmanlike, Labour supported the UK actions #Libya #EdMiliband

— Rob Perry (Unicorn Hunter in the Sunlit Uplands) (@RobDavePerry) April 24, 2015
Low blow from Ed Miliband today regarding Libya and the migrant crisis. Very low #GE2015

— Jessica Rose Williams (@Jessicarosewil) April 24, 2015
Can't believe Miliband tried using the deaths of the migrant boat tragedy for political point scoring… Should stick to debating 1, on 1.

— Harry Pym (@HarryJpym) April 24, 2015
Libya, Iraq, Murdoch: there's barely anything Miliband hasn't got right after the event.

— Ian Leslie (@mrianleslie) April 24, 2015
What a petty little #BandWaggonJumping #Moron #Miliband — Labour Accuses PM Over Migrant Boat Deaths http://t.co/V897t6mp2E

— Mark Pipkin (@MarkPipkin1) April 24, 2015
Worried if Miliband leads our country

— Kyle Hodkinson (@kylehodkinson8) April 24, 2015
Thank you Ed Miliband for reminding us this morning why you're unfit to be PM http://t.co/2tl690WDN7

— Sajid Javid (@sajidjavid) April 24, 2015
https://twitter.com/Ryan__Blake/status/591599601666371586
Ed Miliband's Twitter account has been silent today, although he did have this to say on Libya in 2011. pic.twitter.com/lFlXyKH4D8

— Ben (@Jamin2g) April 24, 2015
Miliband is right to say Cameron bears responsibility for migrant deaths. But wrong to suggest it's just about post-intervention planning

— Pukkah Punjabi (@PukkahPunjabi) April 24, 2015
.@Ed_Miliband hasn't raised #Libya once at #PMQ's in last three years. Total opportunism

— Dr Liam Fox MP (@LiamFox) April 24, 2015
His efforts to gain political points appear to have been in vain as two polls gave Conservatives a four-point lead over Labour and the latest online comments do seem to favour the Tories.
One survey showed Labour dipping below 30% for the first time in the General Election campaign. However, another had Labour in a two-point lead on 35%, to the Tories 33%.
Around 800 people died last weekend in the biggest single capsize incident of a string this year that has seen some 1,750 lose their lives as an estimated 35,000 have made the crossing to Europe.
Prime Minister David Cameron however, has insisted, as discussions continue about demands for EU states to take a fairer share of the migrants, that the UK would not be expected to offer asylum to those the Royal Navy helps rescue.
Tory cabinet minister Liz Truss demanded an apology for an "absolutely offensive" attempt to lay blame at the Prime Minister's door.
"To bring this into an election campaign I think is outrageous and disgraceful," the Environment Secretary told BBC Radio 4's Today.
"Actually accusing the Prime Minister of causing these deaths, whether directly or indirectly, I think is wrong.
"Ed Miliband feels like he's losing the argument and he's lashing out. Of course we should be talking about foreign affairs but it has to be done in a proper manner."
However, Mr Miliband has been backed up by some as shadow foreign secretary Douglas Alexander accused the Conservatives of manufacturing a row.
"I do think David Cameron waded in and then walked away. It is a failure of post-conflict planning for which the international community bears responsibility.
"That's not a matter of dispute. It's simply a matter of fact."