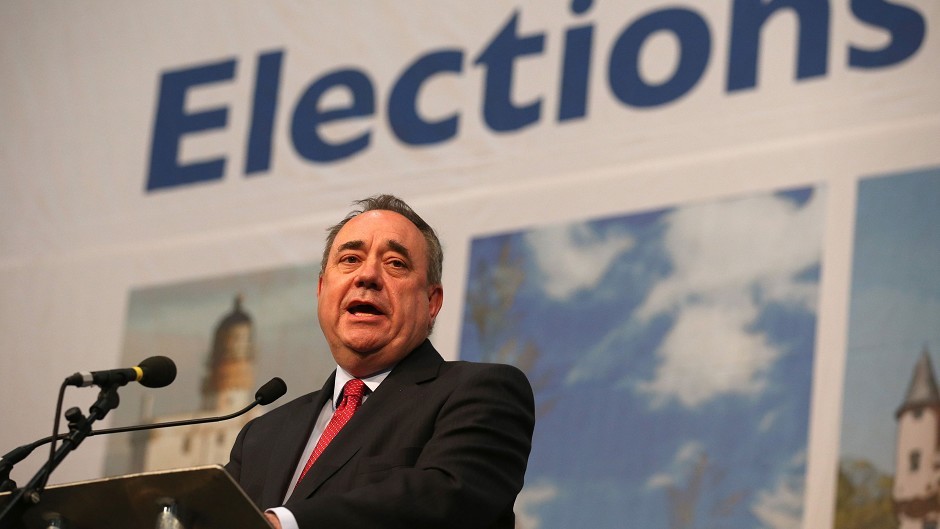 Alex Salmond hailed an "off the scale" result in Scotland after the SNP won nearly every seat in the country.
The former first minister will make his return to Westminster after comfortably winning the Gordon constituency.
Mr Salmond ousted the Liberal Democrats from a seat Sir Malcolm Bruce had held for more than 30 years.
And he compared the realignment of the Scottish political landscape to a "great wind blowing through the great glens of Scotland".
Mr Salmond said: "I don't think landslide covers it. We have seen swings of up to 35%.
"I can't think of any time anywhere in a general election I have ever seen a swing like that.
"That's more than three and a half times.
"This is off the scale of political. It's a stunning thing, this new direction in politics."
Mr Salmond credited the SNP's surge to his successor as first minister, Nicola Sturgeon.
He said: "The SNP has been replacing Labour as the favourite of the Scottish people and that's been happening for a decade and more, first in the Scottish Parliament and now in Westminster.
"But the more immediate reason for our success is the brilliant leadership by Nicola throughout the election campaign.
"The aftermath of the referendum has left us in Scotland with a more energised country. This is not the same country as a year ago."
The turnout in Gordon was high, with 73.3% of the electorate voting and 58,223 ballot papers being counted.
Mr Salmond said he thought the turnout in his new constituency was "fantastic".
He added: "A 73% turn out is great, just fantastic.
"I have been saying throughout the campaign we have been preparing for what looks like a very substantial victory for the SNP across Scotland.
"The electrification of politics, the empowerment effect of the referendum has carried through into the general election.
"We have now the most informed, articulate and engaged electorate in the western world. We are a changed nation and a better nation."
Liberal Democrat Christine Jardine was left lagging 19,030 votes behind
She said: "Although I accept there may be a wind of change, the SNP do not speak for all of Scotland and I feel for all of those people who have lost their voice."
She congratulated Mr Salmond on his win but added: "I ask that you listen to the people of Gordon they way that Malcolm Bruce has done for three decades."
Capturing Gordon was seen as a significant for the SNP, as the party has struggled in the seat in the past, finishing a lowly fourth in 2005.
Aberdeenshire also voted by 60-40 against independence in last year's referendum.
Braden Davy for the Scottish Labour Party received 3,441 votes with Colin Clark for the Conservative party brining in 6,807.
Ukip candidate Emily Santos garnered 1,106 votes.