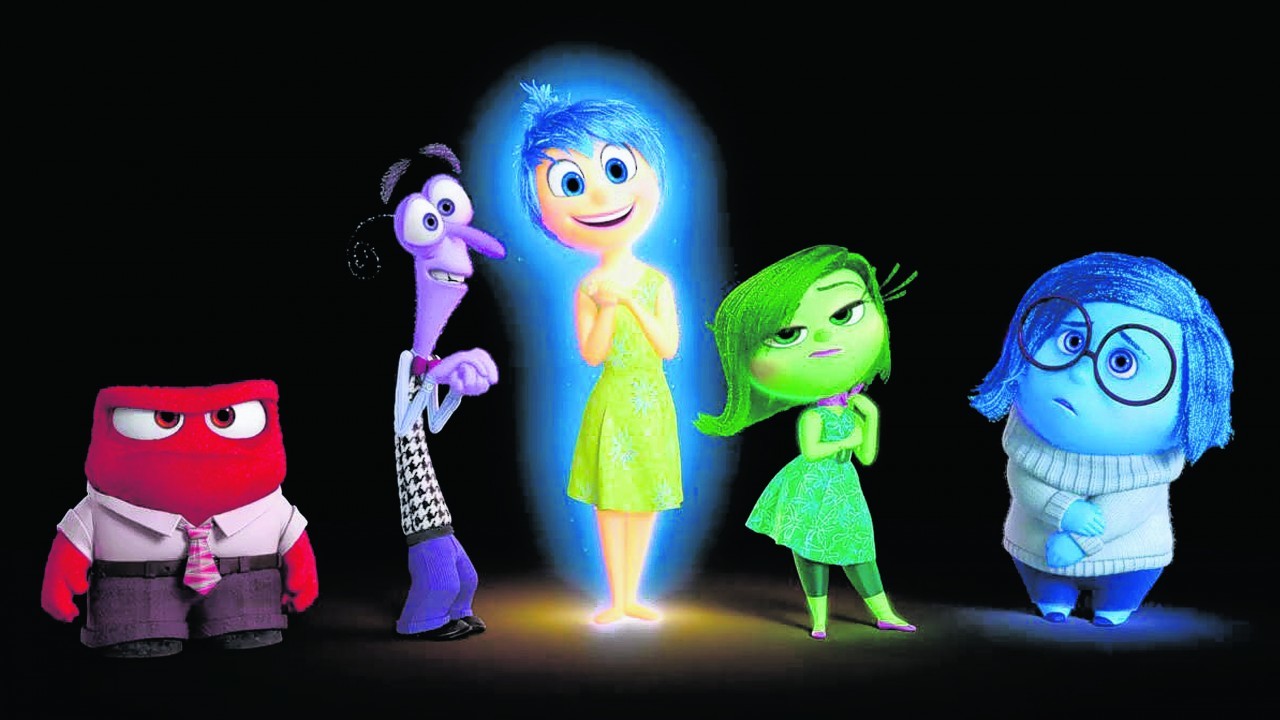 INSIDE OUT (U)
5 stars
Despite gargantuan advances in medical science, we still don't fully understand the complexities of the human brain – its ability to process vast quantities of information, solve problems and store memories at speeds that put supercomputers to shame.
Pixar Animation Studios, the wizards who conjured the Toy Story trilogy, contemplate the vagaries of neuropsychology with this visually stunning and emotionally rich comedy, which unfolds predominantly inside the head of a little girl.
This highbrow concept doesn't seem like the most accessible subject matter for a family-orientated computer animation.
But directors Pete Docter and Ronaldo Del Carmen elegantly tilt their film at the windmills of the mind and deliver a hilarious, heartfelt and ultimately life-affirming adventure that celebrates childhood innocence, family unity and the power of the human spirit to overcome adversity.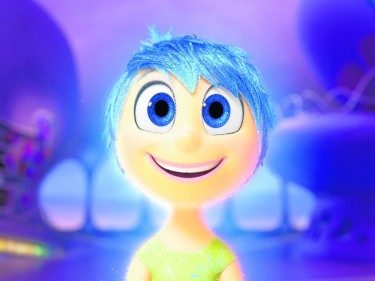 Laughter and tears abound, as well as cute visual gags, ensuring parents will be dabbing their eyes repeatedly, while children whoop and gurgle with glee at the slapstick and rollicking action sequences.
A mother (voiced by Diane Lane) and father (Kyle MacLachlan) welcome a baby girl called Riley (Kaitlyn Dias) into the world.
From the moment she opens her eyes, Riley's mood is shaped by five coloured emotions – golden Joy (Amy Poehler), blue Sadness (Phyllis Smith), purple Fear (Bill Hader), red Anger (Lewis Black) and green Disgust (Mindy Kaling) – which bicker behind a large control
desk laden with buttons and levers.
Joy is the dominant emotion in Headquarters and she safeguards Riley's memories, which are stored as glowing orbs, tinged with the colour of the emotion that prevailed at the time.
When Riley turns 11, her parents relocate from Minnesota to San Francisco.
Traumatic events such as a first day at a new school nudge Sadness to the fore.
Following an altercation, sworn rivals Joy and Sadness are expelled from Headquarters and find themselves stranded in the labyrinth of Riley's long-term memories.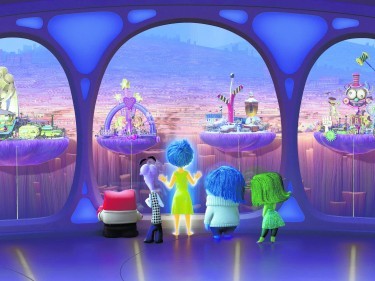 Aided by Riley's imaginary friend Bing Bong (Richard Kind), Joy and Sadness blaze a haphazard trail on the chugging train of thought back to Fear, Anger and Disgust, who have been left in charge of Headquarters, with disastrous consequences.
Inside Out is easily Pixar's best film since the trilogy of WALL-E, Up and Toy Story 3.
Docter's script, co-written by Meg LeFauve and Josh Cooley, glisters with imagination, wit and invention, delivering guffaws with detours into the heads of Riley's parents as they attempt to deal with her pre-teenage rebellion.
Vocal performances are note perfect, led by Poehler's exuberant portrayal of Joy and Smith's sincere embodiment of Sadness, who tugs heartstrings as the film reaches its exquisite conclusion.
The film is preceded by a short: a musical love story entitled Lava between two volcanoes called Uku and Lele, directed by James Ford Murphy.
SOUTHPAW (15)
3 stars
Feted by some sports commentators as the greatest boxer of all time, Sugar Ray Robinson possessed one unshakeable quality that gave him an edge over his opponents.
"To be a champ, you have to believe in yourself when no one else will," he insisted.
Director Antoine Fuqua, screenwriter Kurt Sutter and leading man Jake Gyllenhaal clearly believe in their hard-slugging sports drama about a one-time boxing legend, who hits the comeback trail in order to win back the custody of his young daughter.
Fuqua orchestrates testosterone-fuelled skirmishes inside the ring with brio, Sutter trades verbal blows with his snappy dialogue, and Gyllenhaal trained intensively for six months with fight choreographer Terry Claybon to replicate the muscular physicality and snarling mentality of a light-heavyweight.
Ironically, for a film that packs a wallop during briskly edited bouts, Southpaw delivers only a few light jabs to our heart strings, almost all of which are landed by 12-year-old actress Oona Laurence.
At 124 minutes, Fuqua's cliche-riddled contender expects us to go 12 rounds with training montages and a euphoric Eminem soundtrack before the obligatory final showdown of brawn over brains.
Billy Hope (Gyllenhaal) is a giant of the boxing ring, who celebrates retaining his championship belt with his wife, Maureen (Rachel McAdams), and precocious daughter Leila (Laurence).
The girl begs to be allowed to watch her father's fights.
"I see stuff like that on the TV all the time," she pleads. "I watch The Walking Dead."
Maureen becomes concerned about the toll on her husband's body and pleads with him to hang up his boxing gloves for good, which doesn't impress Billy's lifelong manager, Jordan Mains (Curtis "50 Cent" Jackson).
Tragedy strikes and Leila is wrested away from Billy by the courts after he sinks into a mire of alcohol-sodden despair.
In order to reunite his fractured family, Billy must prove to child
services officer Angela Rivera (Naomie Harris) that he can be a responsible parent.
To earn enough money to provide a home for Leila, Billy heads back into the boxing ring to fight his nemesis, Miguel "Magic" Escobar (Miguel Gomez).
Thus, the underdog begins the slow and painful journey back to peak physical fitness with the help of old-school trainer Tick Willis (Forest Whitaker).
Southpaw is a rousing parable of triumph over adversity that won't knock out any fans of The Champ, Rocky and other displays of pugilistic big-screen machismo.
Gyllenhaal looks in peak physical shape, but mumbles his lines, some of which are incomprehensible.
McAdams illuminates her limited scenes, while Laurence proves she can cry on cue like a leaky tap.
Jackson plays his role with swagger, echoing the capitalist interests of modern sport when his bling-laden promoter grins: "If it makes money, it makes sense."
Money talks, if only Gyllenhaal did more clearly.