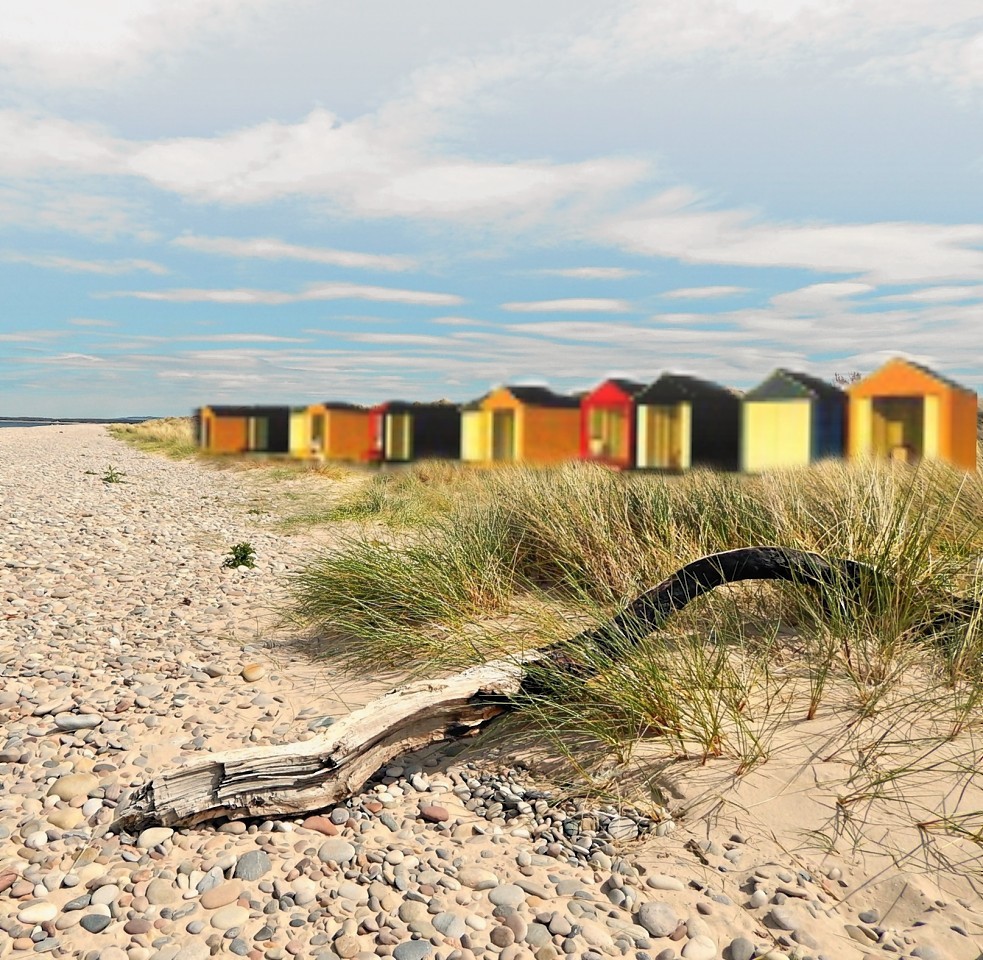 Villagers locked in a legal battle with Moray Council over a set of beach huts will today launch a campaign to cover their £25,000 costs.
Protesters from Findhorn will take Moray Council to the Court of Session in Edinburgh in November, in an effort to force the local authority to revoke planning permission for a set of 30 colourful huts along the shoreline.
Campaigners say the development would create an eyesore on a stretch of otherwise unspoiled coast, and could endanger natural wildlife.
But the unhappy residents need help to cover legal expenses and they are now launching an online crusade for public donations.
Developers have been forced to delay construction until the dispute is settled, and estate agents have withdrawn the huts from the market.
The wrangle began in May, when Moray Council's planning and resources committee approved the plans – despite receiving 173 letters of objection.
Christine Hunt and fellow protesters paid £9,000 to an Edinburgh-based QC this summer, who drew up a petition urging the council to remove permission for the development.
They had hoped the body would overturn its decision at that stage, thereby negating any need for court proceedings.
But, after the local authority refused to budge on the issue, campaigners were left with "no option" but to launch a costly legal fight.
Ms Hunt said: "We paid for the QC to draw up a petition, which was then sent to the court in Edinburgh.
"We had hoped that once Moray Council had seen our petition and understood our argument we could resolve things without going to court.
"But the council maintain that the huts will compliment the economy and boost tourism in Findhorn, so we have to go forward and take it to the Court of Session."
The group will need thousands to fund such a challenge, though if members are successful then Moray Council will be forced to pay their legal costs.
Ms Hunt added: "So many people in Findhorn are opposed to these plans, they would ruin such a natural area."
Inverness-based developers 1 Architects had aimed to begin construction on the huts earlier this summer, but when notified of the legal wrangle it put those plans on hold.
The firm's managing director, Ian Sutherland McCook, yesterday said continuing with the plans despite an uncertain future would be "impolite".
He said: "Obviously whatever the objectors are doing is their business, we are just waiting for the hearing date.
"At that point, if we are still able to proceed, we will move forward.
"Though we had received a lot of interest in them, we suggested that the huts be withdrawn from the market as continuing to promote them would be impolite towards the court process.
"We won't take any action until the verdict is returned, and we would not like to speculate on what that result may be."
The huts are planned to stretch along a 324ft stretch of dunes.
And inspired by efforts at Hopeman, which has a 15-year waiting list for huts along its beach, developers hope to rent them out.
If taxed, it is estimated that Moray Council could make £22,500 annually on the development.
On Wednesday, November 18, the case will go before the Court of Session in Edinburgh.
The group of residents have set up a web page at www.campaignforwildspaces.com where they are soliciting donations to cover the legal quarrel.