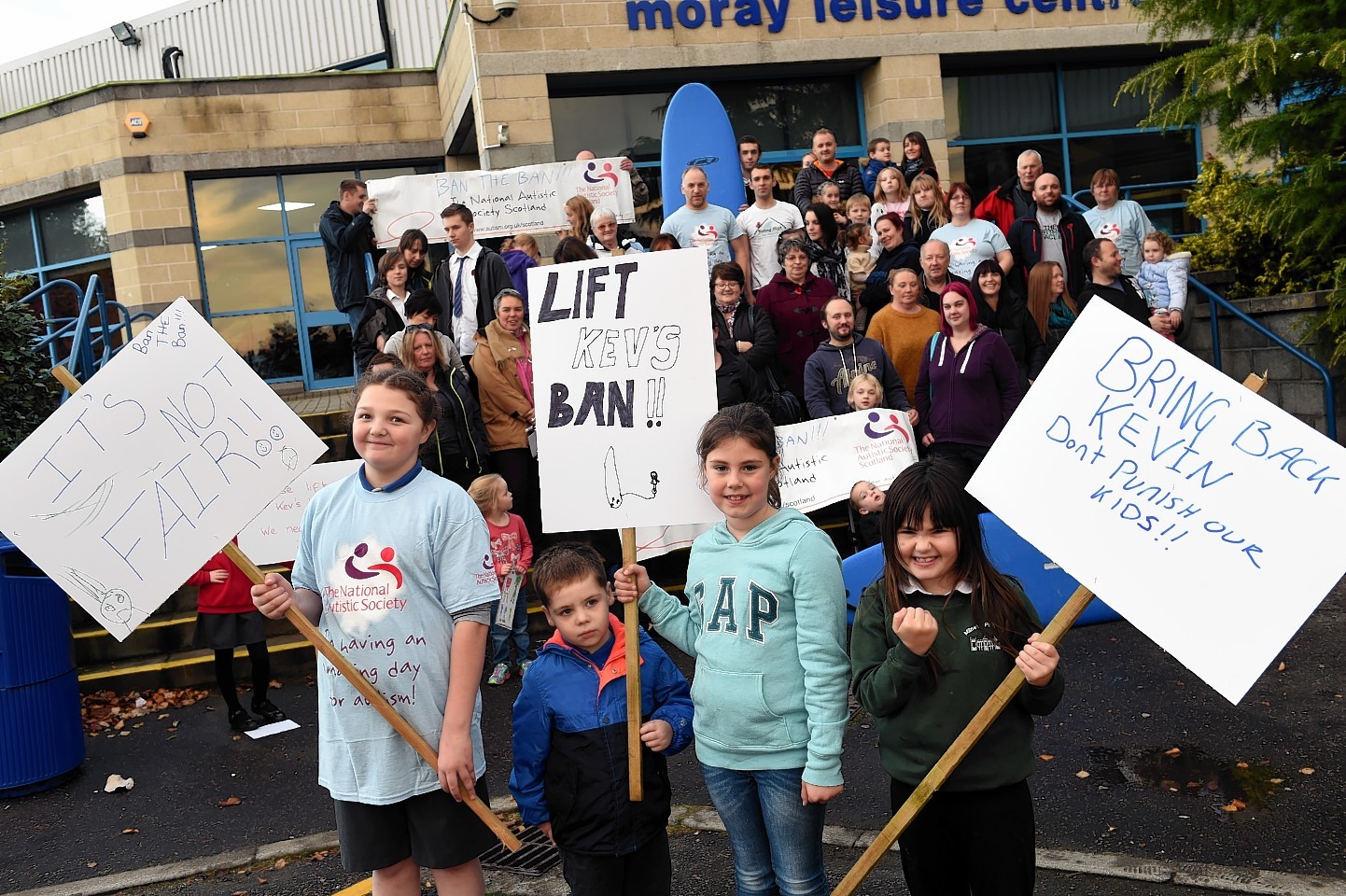 Crowds of protestors gathered outside Moray Leisure Centre to press venue managers into overturning an unpopular ban on a charity volunteer.
Kevin Anderson has been barred from the Elgin facility for three months for an alleged infraction of health and safety rules while teaching autistic children surfing skills.
The ban has forced charity leaders into postponing winter lessons, and has left scores of disabled children distraught.
Pressure has mounted on centre management to reverse the contentious edict ever since, and yesterday afternoon throngs of supporters congregated outside the building to voice their concerns.
Campaigners waved placards emblazoned with slogans such as "this is unfair" and "don't punish our kids", and cries of "bring Kevin back!" rang out.
During the rally, protestors handed out flyers to passing members of the public alerting them of the situation.
The leaflets accused Moray Leisure Centre top brass of "abusing their powers of authority", and emphasised the "devastating" effect the ban has had on autistic youngsters.
Mr Anderson, who has extensive lifeguard training and worked at the centre for five years, said he was "amazed" by the show of support.
He said: "It makes me feel better to know we have such support, even people I helped teach swim years ago have reached out since the ban.
"If Moray Leisure Centre had agreed to meet us then the protest may not have been necessary, and these kids won't have to miss out on lessons."
Forres mum Heather Jarman said the surfing sessions were a lifeline for her 11-year-old daughter Kimberly.
Mrs Jarman said: "Kimberly can't really go to activities like the Brownies, as sometimes instructors with groups like that don't really understand autistic children.
"But Kevin has taken time to understand what to do with them, and Kimberly really loved it.
"This is the only thing she has except for going to school, and it was really helping her social skills."
Fellow mum Pauline McWalker, also from Forres, attended the rally with nine-year-old daughter Amy.
She added: "It's very upsetting for us that this ban remains in place.
"We were there the night management decided to take that action, and no-one was ever in any danger."
The ruling was made following a lesson in which Mr Anderson brought an autistic boy into waters beyond the pool's halfway point.
He was cautioned to restrict lessons to shallow waters and maintains he complied with the request.
But, two weeks later Mr Anderson received a letter barring him from the venue.
Chairman of the Moray branch of the National Autistic Society, Glyn Morris, helped develop the surf school with Mr Anderson and has been a staunch supporter during his recent tribulations.
Mr Morris said yesterday's demonstration was undertaken only as a last resort when venue management refused to respond to requests for a meeting.
He said: "We have tried to engage with management at every opportunity and it has been rejected.
"The ban itself, and the fact that there isn't an appeals process in place, are ridiculous."
Earlier this week the director of the National Autistic Society for Scotland, Jenny Paterson, implored centre bosses to rescind the ban.
Mrs Paterson said: "This is a huge blow for families and a distressing break from routine for children we support in Moray."
Moray Leisure Centre manager Steve Ash was not at the venue yesterday and staff said no-one was able to comment on the protest in his absence.
But despite recent remonstrations, Mr Ash has remained adamant that the ban would stay in place.
He maintains the decision was made in the best interests of health and safety, and says the centre does not wish to prevent the autistic youngsters from enjoying its pool.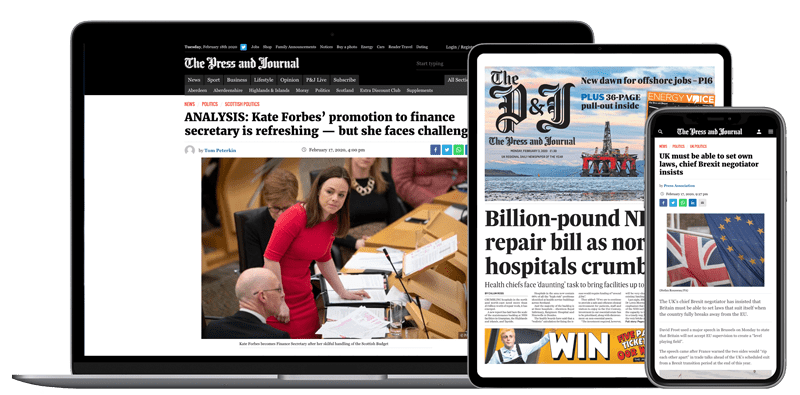 Help support quality local journalism … become a digital subscriber to The Press and Journal
For as little as £5.99 a month you can access all of our content, including Premium articles.
Subscribe