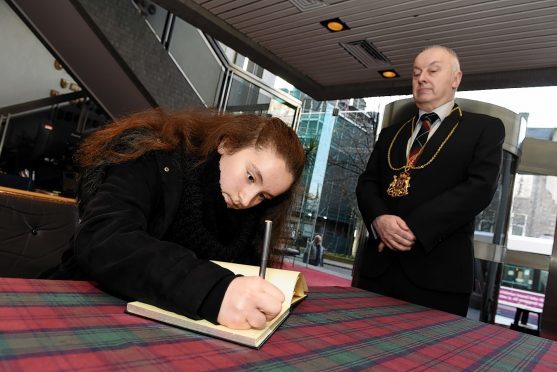 Historic Marischal College was lit up in red, white and blue last night as Aberdeen showed solidarity with the people of France.
Following Friday night's massacre in Paris, landmarks across the world have been illuminated in the colours of the national flag of France, the tricolore.
The city council's headquarters joined ranks with the likes of London's Tower Bridge and Sydney Opera House in displaying a striking show of unity.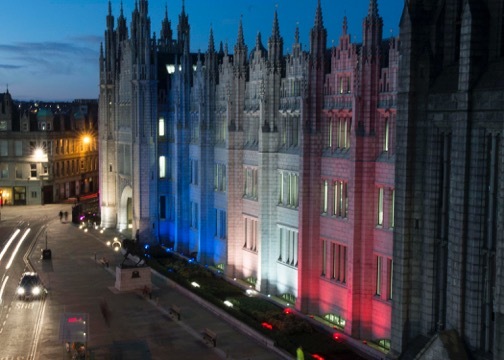 Earlier in the day, Aberdeen City and Aberdeenshire council officials congregated with countless people across Europe to observe a minute's silence to honour the victims of the atrocities.
Lord Provost George Adam said it was important for Aberdeen to display "sympathy, support and solidarity" with the people of France.
Council leader Jenny Laing said: "Aberdeen has close ties with France throughout history, and particularly in recent times with the oil and gas sector.
"Our deepest sympathies go to the victims and their families."
A book of condolence was also opened at the reception of the city's Town House where people can leave messages of support in the coming days.
Mrs Laing was the first to pay her respects, writing: "Everyone in Aberdeen has been deeply shocked and saddened by the terrible events in Paris.
"We extend our deepest sympathy to the victims and their families, at this difficult time."
Conservative group leader Ross Thomson left the message: "Our thoughts and prayers are with all of you.
"This horrific attack was an attack on the way of life for us all.
"We stand in solidarity with you – shoulder to shoulder – united."
SNP group leader Jackie Dunbar, added: "Words are hard to find in moments like these.
"But please know our thoughts and prayers are with you all in this difficult time."
And Councillor Ian Yuill, leader of the Liberal Democrat group, signed the book: "It is difficult to know what to say, or write, at a time like this.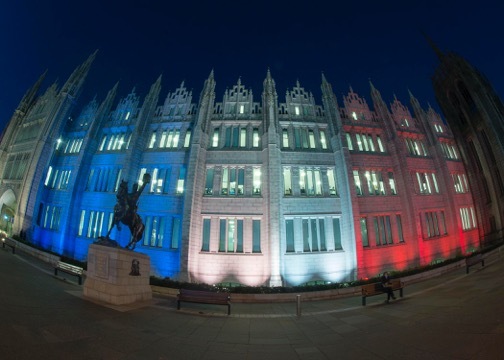 "Our city's citizens are shocked by what has happened and our thoughts and prayers are with everyone affected by the events in Paris and the citizens of France."
Aberdeen Grammar School pupil Emilie Girard was the first member of the public to sign the book of condolence.
She wrote: "We wish all the best for everyone affected, all the family, and all the friends.
"We hope for all the best and our thoughts are with all of you."
The 12-year-old, whose father is French and who has family living in Paris, said: "I came down here because I felt very
passionate about the people who have been affected.
"I wanted to come down here and show my respects."
She said her family had been hugely relieved to hear that relatives in Paris were safe following the attacks.
Emilie, who has visited the French capital many times, added: "I was devastated.
"I was terrified and shocked.
"I couldn't believe something like that had happened.
"I was very emotional. I felt I had to do my part and come down here today.
"How can you just go out on a Friday night for a quiet meal and something devastating like this happens?"