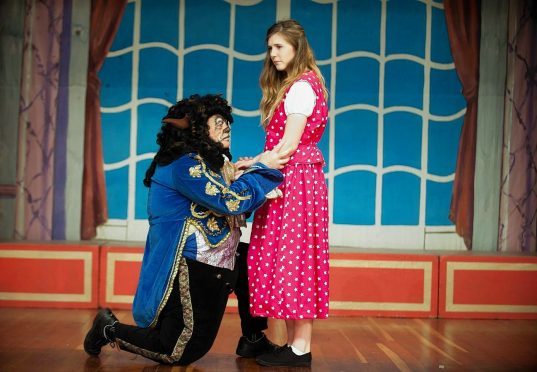 Moray residents will be treated to a "tale as old as time" tonight as one of the most popular staples of the festive season arrives at Elgin Town Hall.
This year's pantomime, Beauty and The Beast, launches this evening, with performances running until Sunday.
For months, members of Elgin's Amateur Dramatic Society have been weaving colourful costumes and practising their lines ahead of taking their own version on the classic fable to the stage.
And this year's festive show is of special significance to the cast and crew, as it marks the 70th anniversary of the group.
They hope the fearsome costume of the Beast will be a particular highlight, while an oversized French poodle character named Flex, who believes himself to be a human, will prove a hit with youngsters.
Panto veteran Martin Kennie will don the outrageous garb of extravagantly named dame, Madame Manon de Pamplemousse.
It will be the third show that Sandy Dow has overseen as director.
"To me it feels like the panto really marks the start of Christmas in Elgin," he said.
"It's full of fun and laughter for the kids, but there are some jokes for mums and dads too.
"A lot of hard work has gone into it, and we have a cast of 50 ready to perform.
"For some of the younger members this is their first opportunity to get on the stage, so it's especially exciting for them."
The Elgin Amatuer Dramatic Society formed in October 1945, when a gathering of townspeople met at Elgin Academy to form its inaugural committee.
The fledgling group put on its first show the following March, an adaptation of JM Barrie's comic play Quality Street.
In 1961 the society shifted its production venue from the town's Holy Trinity Hall to the newly built Elgin Town Hall.
Performances of Beauty and the Beast will start at 7.30pm running from this evening until Saturday. An extra matinee performance will take place at 2.30pm that afternoon.
Tickets are available from Beaver Travel on South Street in Elgin, or by phoning 07902 315715.