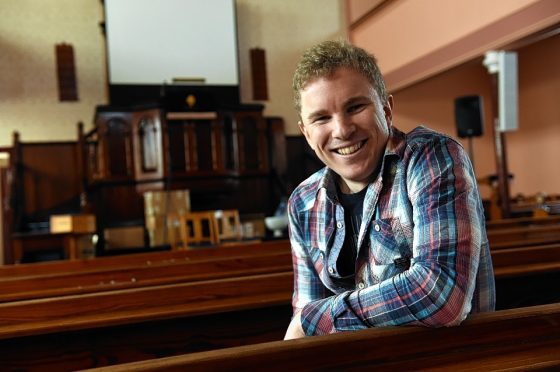 *****CHRISTMAS STORY TO BE HELD*****
Moray's newest minister has reflected on a whirlwind few months which have seen him relocate from a bustling city church in England to lead the flock in a quiet fishing village.
This time last year Reverend Peter Turnbull was organising huge carol services at the Christ Church in Fulwood, Sheffield.
The venue's congregation of 900 swelled to thousands over eight nights during the festive period, as people packed in for evenings of song.
This Christmas, the former music coordinator is staging more humble celebrations at Burghead's Free Church, as he strives to grow its congregation.
Last Saturday he rallied residents into forming a makeshift choir so that his new kirk could stage its first ever carol service.
The 31-year-old relocated to the historic port in July, with his wife and four young children.
Over the last five months he has arranged a series of events designed to interest more people in religion – with a focus on staging "accessible" sermons that can be enjoyed by people with little knowledge of Christianity.
The reverend aspires to transform the Burghead kirk into "the church for people who wouldn't normally go to church".
He said: "We have held a couple of invitation services, for people who may be intrigued by the idea of church but feel it's not for them.
"The point is to use intelligible language, and make it feel accessible – anyone could go along and understand the message."
While the flock at Burghead mainly comprises of pensioners, Mr Turnbull says he is keen to overturn the stereotype that church is mainly for older people.
He said: "Folk think people in their 20s or 30s have no interest at all in religion, but that isn't true.
"Several studies have shown that people in that age group are the most open to spiritual thoughts and ideas."
Mr Turnbull's wife, Morag, originally comes from Elgin and the pair were familiar with the area before moving this summer.
After seven years in Sheffield, the reverend says he has been struck by the different pace of life in Burghead.
He said: "But we love it here, people have been very welcoming and friendly."
Next month Burghead Free Church will hold a Christianity Explored course, in which people can discuss the life of Jesus.
More information about forthcoming events can be found at burgheadfreechurch.org.