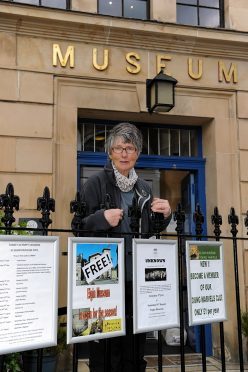 Scotland's oldest independent museum could be history after Moray councillors rejected a "sink or swim" application for funding.
Elgin Museum had appealed for a grant of £44,500 which would be spread across the next three years to ensure the popular tourist attraction remains open.
But supporters were left devastated yesterday after councillors savaged the venue's appeal – and voted against the grant by just seven votes to six.
Last night, the council was accused of "penny pinching" and allowing the region's cultural heritage to "wither away".
But one official said the council could not be relied upon as a "bank of last resort" as it faces financial challenges of its own.
The museum's struggles emerged in June when its first application for funding went before the local authority.
The Moray Society, which runs the four-star attraction on a voluntary basis, said the grant would be essential to its future.
However, elected members pointed out faults with its projected income, and noted discrepancies in other areas of the application.
The council moved to defer any decision until a more robust case for the grant could be made.
Yesterday the authority's economic development and infrastructure services committee was presented with a hefty new report.
But the committee ruled that the society had failed to convince members that the venue has a stable future.
Committee chairman John Cowe listed a catalogue of faults with the revised business case.
He said projections outlining increased visitor numbers, donations and income failed to add up.
Council leader Stewart Cree added: "Regrettably, I see this as an organisation that is increasing its costs and decreasing its income.
"The council is facing challenges, and it is wrong to send out a message that we are a bank of last resort."
Keith and Cullen councillor Gary Coull had implored members to safeguard the museum's future as a key part of Moray's tourist economy.
The historic complex was established in an A-listed building on the town's High Street in 1843, and the venue is now the oldest of its kind in Scotland.
It exhibits an array of treasures native to the region and from further afield, including more than 900 fossils, Roman coins, Pictish symbol stones found near Craigellachie and artwork by John Constable and J.M.W. Turner.
Elgin City North councillor Patsy Gowans, who previously served on the museum's board of directors, said she was "very disappointed" by the decision.
She said she would meet with the Moray Society within the next week to discuss other potential funding avenues.
The museum relies on memberships, visitor donations and contributions from local businesses to stay afloat.
Mrs Gowans said: "The museum is led by volunteers – they aren't professionals but they do a good job.
"The amount requested was not a big ask, and for it to be refused makes it seem like what they do isn't valued.
"But I'm sure the Moray Society won't want to give up, they will have to regroup and seek another way forward."
Moray MSP Richard Lochhead said he disagreed with the council decision.
"We all recognise that times are tough for public services, but we cannot allow our cultural heritage to wither away," he said.
"This will be a blow for the Moray Society's plans."
Leader of Moray's Green Party, James Mackessack-Leitch, slammed administration councillors' "blinkered and penny-pinching attitude".
He added: "The thought that somehow our shared history is only worthy of support if it can turn a profit is bad enough.
"We should be supporting and celebrating our heritage and encouraging visitors to do the same."
No one from the Moray Society could be reached for comment last night.