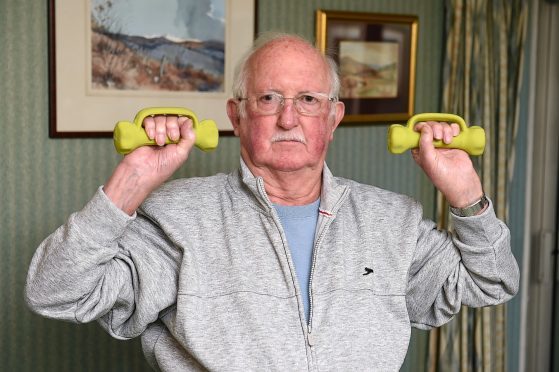 A sprightly Aberdeen pensioner who turned to circuit training after battling cancer is encouraging others to be more active in the face of diagnosis.
Steve Stephenson has gone through radiotherapy treatment, and had two knee replacements.
But since picking up the dumbbells and taking up wall push-ups, the 80-year-old has noticed a boost in both his mental and physical health.
"I had prostate cancer last year and finished my radiotherapy treatment in late February," Mr Stephenson said.
"A couple of months later I went to see my consultant at Aberdeen Royal Infirmary and he told me I was depressed."
Mr Stephenson's doctor recommended the Move More Aberdeen programme – a 12-week exercise course funded by Macmillan
Cancer Support, in partnership with Sport Aberdeen.
He took part in movement exercises similar to tai chi and then moved onto circuit training.
Despite his mobility difficulties, chronic asthma and depression Mr Stephenson really took to the classes.
"I started circuit training and I felt quite embarrassed being an 80-year-old and short on breath," he said.
But with the support of health and wellness advisor Jon Lurie, he soon got into the swing of things.
So much so Mr Stephenson now does his own exercises at home and goes regularly to classes at Cults Community Centre.
"Once I went to those classes and got going I was stronger and mentally I was much better that I did those classes at home and I still do.
"If it hadn't been for Macmillan Cancer Support, I'd be watching TV all day," he said.
"I'm totally different and I'm up and out and doing things."
Having reaped the benefits of his exercise classes Mr Stephenson is keen for others affected by cancer to get involved with the programme.
He added: "Given the number of cancer patients in Aberdeen, I would urge people to get involved. They've done so much for me and I know they can change people's lives."
For more information about the Move More Aberdeen program contact 01224 577729.