 The Kirk's General Assembly has been told there are "risks and uncertainties" whatever the outcome of the referendum.
The remark was made during a historic debate on independence attended by about 700 people yesterday.
Shadow Foreign Secretary Douglas Alexander outlined the case for keeping the 307-year Union intact on behalf of the Better Together campaign.
And author and lecturer the Rev Dr Doug Gay, of Glasgow University, spoke for the Yes Scotland group.
Two Church of Scotland ministers from the north and north-east were among about 12 General Assembly commissioners who outlined their positions.
Speaking in favour of independence, the Rev John Macgregor, who leads the Clyne, Kildonan and Loch Helmsdale congregations, said: "I am proud to be Scots and I am proud to have England as my neighbour.
"But did anyone of you have a big brother when you were growing up and did he get first dibs on everything?"
"All my life Scotland has voted socialist but for nearly my life I have been ruled and governed by Conservatives voted in by my big brother in England.
"Small is beautiful, small people can do great deeds – I urge you to vote yes."
The Rev Scott Rennie of Queen's Cross Church in Aberdeen made a passionate plea for people to vote "no" on September 18.
"My problem is I don't think that an independent Scotland – and we are sometimes sold a utopian picture – can deliver the equality and social change we want to see," he said.
"We change nothing by drawing a boundary.
"If Trident moves from Faslane down the coast to Barrow-on-Furness, what is that going to change for world peace?
The 90-minute discussion was billed by the Kirk as "respectful dialogue" and no vote was taken because, as an organisation, it is remaining neutral.
Mr Gay told commissioners he was "realistic" about independence.
"It is not a utopia – it is a future full of risks and challenges and uncertainties," he said.
"But so too is a future within the union.
"I want to vote yes and leave the parliamentary union because I do not believe the UK as it stands is capable of making the journey of reform it so badly needs to make."
Mr Alexander argued that the break-up of the UK would represent a "defeat for progressive ideals" and a retreat from a shared vision of a multi ethnic, multi-cultural, multi-national state.
"So I will vote for a principled and pragmatic solidarity that shares risks, rewards and resources across these islands," he added.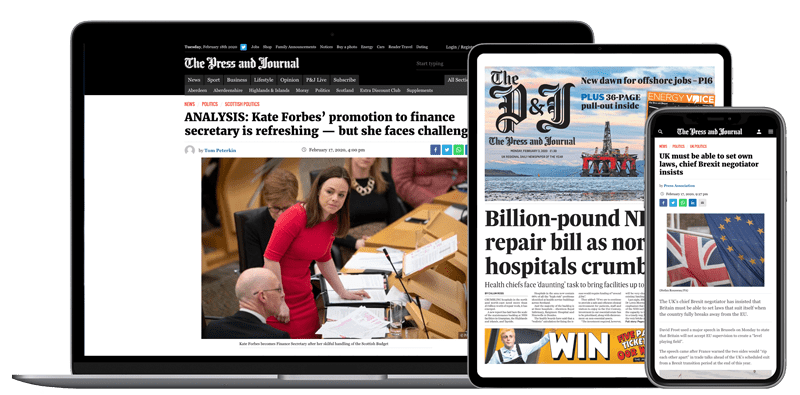 Help support quality local journalism … become a digital subscriber to The Press and Journal
For as little as £5.99 a month you can access all of our content, including Premium articles.
Subscribe