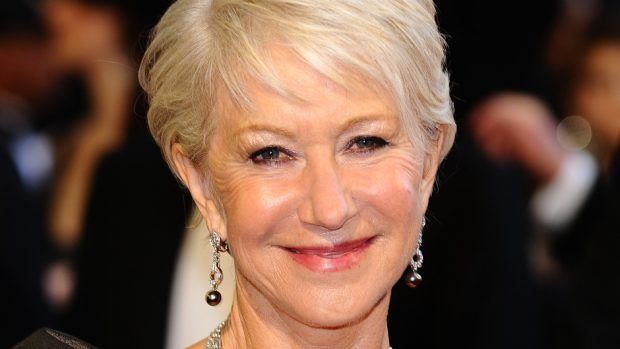 The wider debate over the value of awards in Hollywood shows no sign of abating, with an ongoing discussion over the lack of diversity. But on a personal level, Dame Helen Mirren can see the merit in gaining industry recognition through the plaudits, though she didn't always feel this way.
"When I first came into my profession, I was very, very against the idea of recognition, in the sense of the star system and all the rest of it," explains the 70-year-old with a smile.
"I liked the feeling of ensemble and a sense of anonymity – not personal anonymity, but the sense that it was a collaborative effort and no one person was more important than another, but now I feel slightly differently."
Since starting her career as a teenager at the National Youth Theatre, Mirren has become one of the most recognisable faces on British screens, tackling TV with her standout role in long-running series Prime Suspect, action movies in Red and comedy in Calendar Girls – and picking up a hefty swag of awards along the way.
Having played the monarch with her acclaimed title role in The Queen – winning an Oscar for her performance in the process – she's not afraid to poke fun at her regal image (and much celebrated sense of humour), recently filming an anti drink-driving advert for Budweiser, calling anyone who does so a "pillock".
In person, Mirren doesn't disappoint.
Elegant in a purple dress, teapot to her side (though her brew is the resolutely un-starry PG Tips), she is warm, funny and personable from the off.
After five decades at the top of her game, Mirren knows her own worth, which if Madame Tussauds' three commemorative wax figures to celebrate her 70th birthday is anything to go by, is vast.
"I got to a point where I realised the way in which my profession was structured, and recognition was a very important part of it," she says. "And if I really wanted to continue working throughout my whole life, and be financially secure, I had to make myself a recognisable thing, if you know what I mean."
Success, however, can mean falling prey to tittle-tattle.
It's a topic Mirren is familiar with, having recently played vicious career-destroying gossip columnist Hedda Hopper in Trumbo (and scoring a Golden Globe nomination for her performance).
As a prominent star, she's presumably exposed to it herself.
But, Mirren points out, she can turn a blind eye to babble. For screenwriter Dalton Trumbo, the subject of the movie, vicious gossip led to him being blacklisted.
"There are Heddas out there and ironically, they're so often women. They're occasionally men, but there's a particular kind of woman in journalism who takes delight in being more brutal and more cruel and more attacking than anyone," says the actress.
"I haven't personally had to deal with that, or if I have, I've ignored it. But I don't live in the world or the era of Hedda Hopper or Dalton Trumbo, and you see very clearly the price that Dalton had to pay."
Next up, Mirren is side-stepping the drama of Trumbo to star as military intelligence officer Colonel Katherine Powell in thriller The Eye In The Sky, a role which producer Ged Doherty had no doubt she would excel at, given she "can play a badass".
In the film, which also stars the late Alan Rickman and Breaking Bad's Aaron Paul, Katherine is remotely commanding a top secret drone operation to capture a group of terrorists from their safe-house in Nairobi, Kenya.
The situation escalates when a nine-year-old girl enters the 'kill zone', just as American drone pilot Steve Watts (Paul) is poised to destroy the house.
The idea of a woman being in control of such an operation intrigued Mirren.
"To be a successful woman in the military means you have got to be very focused," explains the actress, who shot the film in South Africa.
"Not for one nanosecond are you allowed to mess up, and she has been like that for her whole life, the type of girl who wants to join the military.
"What you wear is very much a part of that. You're eschewing a certain feminine world," she adds. "You're going to be in uniform, and it's not a uniform that is particularly flattering to the female shape, so you let go of all of that."
Although Mirren didn't know much about drone warfare before shooting, and quips that she'd be a "disaster in the military", she had an entry point into the fear they invoke, through her parents' stories of 'doodlebugs' flying overhead during the Blitz.
"They were these unmanned bombs that would come over, which the Germans had developed.
"They made a certain noise in the sky, and when they stopped and became silent was the terrifying moment. That was the moment they were dropping, so you'd be there listening, going, 'Please don't stop, please don't stop', and when it went silent, then you knew."
Asked whether playing strong, single-minded women comes naturally to her, she hesitates.
"I don't know that it necessarily comes easy to me. What I always try to do with the roles that I play is to humanise them.
"To be human is to be full of conflict about things; it's not to be sure. Even the people who appear to be absolutely confident go home at night and go, 'Am I right?'
"My job as an actor is to show human vulnerabilities. Insecurity and vulnerability are much more interesting."
The Eye In The Sky is in cinemas now.