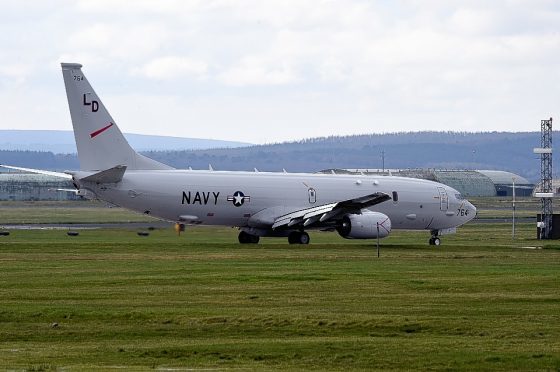 RAF Lossiemouth crews are being given an insight into the maritime patrol aircraft which are destined to become a future fixture in the region's skies.
A fleet of US Navy P-8 Poseidon spy planes are currently flying from the airfield as part of the massive Joint Warrior training exercise.
And Moray personnel have taken advantage of the impressive machines' presence during the war games sessions to learn more about the aircraft.
RAF Lossiemouth Station Commander, Group Captain Mark Chappell, said the planes' presence offered his crews a valuable vision of what lies ahead for the base.
He explained: "This is a great opportunity for us to get used to operating the P-8 Poseidon aircraft from Lossiemouth.
"From the station's perspective, we are getting used to seeing them around. And it's also great for the local community to see the planes here, because they are a big part of our future."
The hulking surveillance planes are attached to Patrol Squadron 10 at the "Red Lancers" Naval Air Station in Jacksonville, Florida.
The craft can hold up to 21 crew, and stock a huge cache of buoys which are deployed by a powerful launcher to track enemy submarines.
More than 3,400 Nato personnel from around the world have descended on RAF Lossiemouth for the fortnight-long training exercise, which began last Monday.
Crews have been honing their skills by launching attacks against imagined enemies, hunting for submarines around the northern coastline and conducting a string of reconnaissance missions.
Last November, the UK Government unveiled plans to locate nine new Boeing P-8 Poseidon craft at Lossiemouth as part of its Strategic Defence and Security Review.
The Ministry of Defence said 200 additional personnel would be on-site at Lossiemouth along with three serving surveillance craft by 2020, with that number rising to 400 over the following years.
It is believed that installing the fleet at the Moray airfield will cost billions of pounds.
Analysts said the decision would plug the defence gaps created when Nimrod surveillance jets, based at the former RAF Kinloss air facility, were scrapped in 2010.