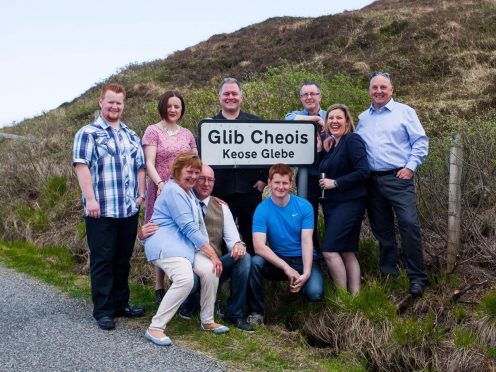 A Western Isles community that bought its local estate earlier this year says winning the Press and Journal's minibus competition would make a big difference to the lives of its 44 residents.
The Keose Glebe Steering Group completed the purchase of the former church land in the east of Lewis for £85,000 in just one year.
Steering group members then became directors of Keose Glebe Estate.
Catherine Morrison, who was treasurer of the steering group and is now one of the directors, said: "The estate was owned by a local family, the Morrisons, for 65 years until 2015 when they decided to put it on the market.
"The villagers decided to become landowners of the estate themselves by successfully completing a community buyout in March 2016."
And locals held a ceremony to mark their purchase of the 1,200-acre estate, which includes 11 crofts and six local authority houses, in May.
Mrs Morrison explained that the village was quite isolated as it was about 12 miles from Stornoway.
She said: "Twelve miles doesn't sound far, but some of the older people who don't drive are really stuck when younger family members are out at work.
"The village has no access to a public bus service, other than to rely on a bus coming from the Isle of Harris, which involves booking a feeder service 24 hours in advance to take people the two miles to meet the main bus on its route from Harris to Stornoway.
"This restricts villagers' ability to be able to do things at short notice."
She added that local people had got to know each other better during the community buyout and were keen to do more together.
Mrs Morrison said: "If we were successful in winning the minibus, it would make a big difference to the lives of all residents in the village.
"It would mean greater community engagement on a regular basis, being able to travel to functions and events around the island, as well as helping the elderly to get to hospital and doctors appointments with much greater ease."
Many organisations have already signed up for their chance to win the minibus, but there is still time to sign up and start collecting tokens.
Tokens will be printed in the paper until Saturday August 27 and every entry must be accompanied by at least 50 tokens.
To sign up your community group for a chance to win the minibus, visit www.pressandjournal.co.uk/minibus