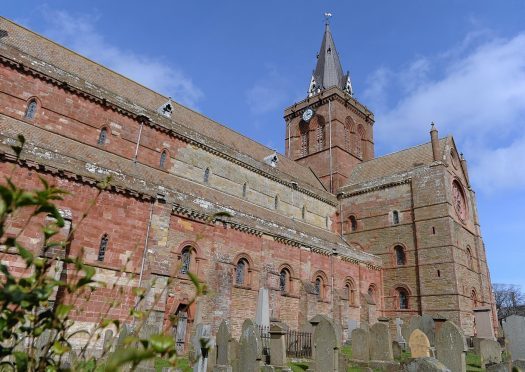 Funerals are being disrupted at a famous Orkney church by selfie-seeking tourists.
St Magnus Cathedral in Kirkwall is one of the biggest attractions in the islands – but it is also a functioning church and regularly hosts funeral and wedding services.
But now the cathedral's minister and a prominent Orkney funeral director have been forced to intervene because of tourists snapping pictures.
The cathedral doors are locked during services – but congregations are regularly mobbed when they leave the building.
Mourners at a service last Friday found themselves surrounded by a large group of tourists taking photographs and video – while one visitor to the islands even tried to take a selfie.
The incident is far from isolated and before another funeral a group had to be stopped from trying to lift the lid off a coffin as it sat in the church before the service got underway.
Reverend Fraser Macnaughton said he found the situation "baffling" and said it was upsetting for the bereaved funeral parties.
He said that "cultural differences" may be at the root of the problem.
Orkney has no crematorium and as many as 95% of funeral services are held in churches, unlike on the mainland, so the sight of a funeral party may be unusual enough for some to consider taking a photograph.
He also said he realised that many cultures had open coffins which could explain the issue inside the cathedral, although he said that was easier to control than the crowds gathering on the green at the front of the building.
He said: "I am trying to understand where this is coming from.
"It is baffling to me. We need to try and understand it and unfortunately we will have to discuss it with our stakeholders to see what can be done.
"These are not isolated incidents and I'm certainly not condoning it."
Orkney has benefited from a large increase in tourists arriving in the islands on cruise ships, with Friday's incidents at the cathedral coinciding with an influx of about 3,000 people.
Kirkwall-based funeral director John Corse oversaw the service and said that he has personally had to intervene in the past between tourists taking photos and a funeral party.
He said: "It's unbelievable really. The cathedral is closed during services and they put signs up but people just keep on coming past them.
"It's very obvious there's a funeral happening, it's not acceptable."