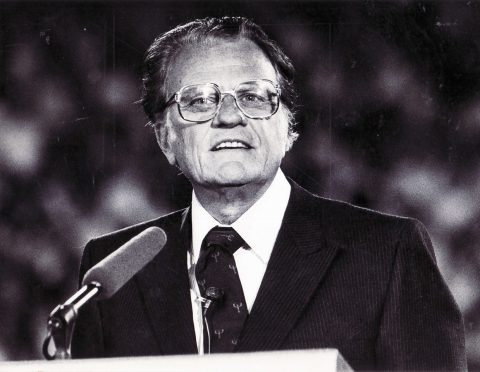 Reverend Will Graham is a member of an evangelical dynasty which has touched countless lives around the world.
Probably the best-known and most successful Christian evangelist in history, his grandfather Billy Graham was a spiritual counsellor to a host of American presidents, including Dwight D Eisenhower, Lyndon Johnson and Richard Nixon.
He was also close with civil rights leader Martin Luther King Jr, whom he bailed out of prison following peaceful demonstrations in the 1960s.
Under the banner of the BGEA, Rev Graham has hosted celebrations across the world including events in Scotland, and has reached more than two billion people.
In 1955, it's estimated as many as two million people attended gatherings at Hampden and Kelvin Hall in Glasgow and across the country.
In 1991, Pittodrie Stadium resounded to the uplifting sound of gospel music when Rev Graham – now 97-years-old – launched a three-night evangelical event.
Last night his grandson Will Graham said: "I personally love following in the footsteps of my grandfather.
"His impact on the world and the Christian faith is enormous, and it's an honour for me to go where he has gone and see the enduring legacy he has left.
"I've told him that I'm preaching in Scotland in October, and that makes him very excited.
"He fondly remembers visiting in the 1950s, 1960s and 1990s. I think he would like to go back as well, but that's not possible at this point.
"I know for an absolute fact that he's praying for you all already, and he will be praying while we're there for the Celebration of Hope."