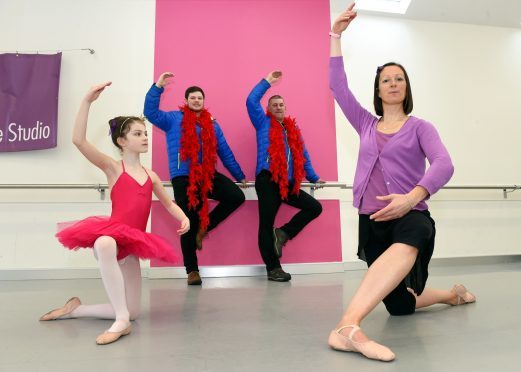 A dance school has raised £5,000 for Friends of Anchor's Dream Big £1million campaign to bring a world-class oncology research unit to Aberdeen.
Academy Street Dance Studio held an event last weekend for both dancers and non-dancers, with nearly 100 people taking part in classes.
Dream, Dance, Donate was organised by the owner of the dance studio, Jemma McRae, who was helped by her sister Liane – who came up from London to teach ballet.
Gillian Stuart taught tap, while Hazel Mair took charge of the musical theatre sessions. Ballroom classes were also offered by school Will Dance.
Mrs McRae estimated that almost 100 people turned up for classes across Saturday, Sunday and Monday.
She revealed that she is always keen to help raise money for Friends of Anchor, following her own cancer diagnosis in March 2014.
She said: "I'm very passionate about raising money for Friends of Anchor.
"It's something very close to my heart having been diagnosed with cancer almost three years ago.
"Everybody is touched by cancer and Friends of Anchor are very passionate about what they do and I think that rubs off on people."
Mrs McRae said she felt she had to get involved after reading about Friends of Anchor's latest fundraising mission, which will bring an advanced oncology unit and world-class cancer research team to the north-east.
She added: "I had a chat with another dance teacher and we came up with this Dream, Dance, Donate idea.
"I e-mailed everyone from the dance studio to let them know and the response was phenomenal.
"It just grew arms and legs over two weeks.
"There was a great atmosphere and a great buzz and we had people saying they wanted to do it every week or every month."
Friends of Anchor vice-chairman, Andy Hutcheon, was full of praise for the efforts of those who raised the money.
He said: "It is a staggering amount raised and Jemma is a brilliant fundraiser.
"The people of the north-east are extremely generous and the number of innovative things they come up with always amazes me."
Dream Big
Friends of Anchor's Dream Big campaign was launched last month to coincide with the charity's 20th anniversary.
The aim of the project is to raise £1million this year for Aberdeen University's Development Trust five-year proposal to raise more than £4million for an advanced oncology unit and world-class cancer research team in the north-east.
To help boost their coffers towards the £1million target, the proceeds from Friends of Anchor's hugely successful Courage on the Catwalk show – now in its fifth year – and its brother event Brave, launched this year, will go towards the campaign.
Friends of Anchor vice-chairman Andy Hutcheon said: "With this being the 20th anniversary of Friends of Anchor it's nice to have a major target to fundraise for."