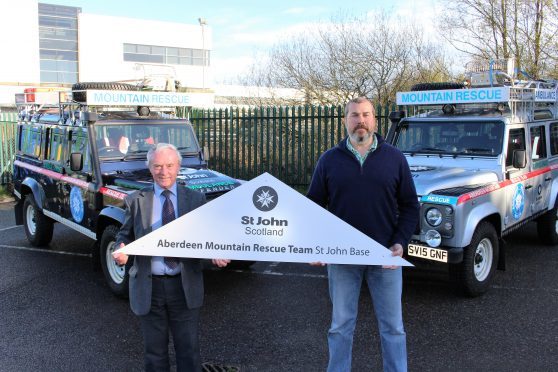 The Aberdeen Mountain Rescue Team has been gifted the ownership of their operations base in Westhill.
St John Scotland has handed over the keys to the building – in a move that will be mirrored in other bases across Scotland – to give "full control" back to the teams.
Since it began its support of Mountain Rescue, St John Scotland has provided bases for 14 teams in Scotland including Aberdeen, Arran, Dundonnell, Oban, two in Skye and Ullapool.
The Aberdeen base is the first facility to be gifted from St John Scotland to the local teams themselves in a "time to be generous" move.
Scott Stevens, Aberdeen Mountain Rescue's team leader said: "We are extremely grateful to St John Scotland for the very kind donation of the base and for all their help over the years – but now we will be picking up the bills ourselves, so to speak.
"We are recruiting for new operational members at the moment, so that we can get our number up to 30.
"The call-out rate varies from year to year – this year, we have been out three times so far and last year it was 12."
The team was established in 1964 and moved to the current base in Westhill in 1990. It was funded by St John Scotland, who provide a volunteer rescue service for walkers, climbers and others who enjoy outdoor activities.
Their members can also be called out to search for missing persons in Aberdeen and Aberdeenshire.
Executive director for St John Scotland, Angus Loudon last night said: "We thought it was time to be more generous and pass on full control to the teams and all the benefits that arise from that.
"However, this will not be the end of our relationship and we look forward to maintaining and strengthening our existing links."