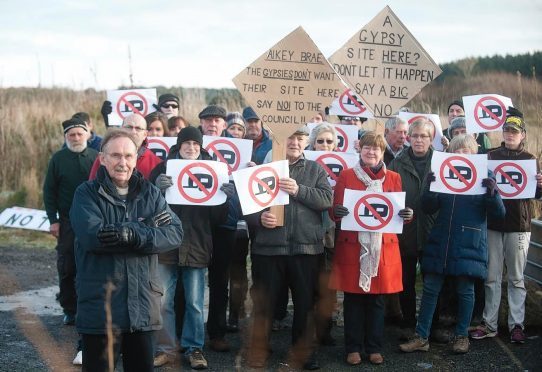 A fundraising campaign to pay for a legal challenge against a controversial traveller stopover site in the north-east has stalled.
Earlier this year Aberdeenshire Council approved plans to create the region's first official traveller camp after decades of "failing" the travelling community.
The project will convert a disused quarry at Aikey Brae near Old Deer into an authorised site.
But the scheme has provoked outrage from neighbouring families and residents of the Buchan village lodged objections.
Concerns were raised that there are not enough public facilities in the area, and that children staying on the site would be at risk of crossing a busy road.
Some campaigners have also claimed the land at Aikey Brae was the site of a significant historical battle and should be treated as Buchan's Culloden.
But a Just Giving fundraising campaign to drum up £5,000 to pay for a judicial challenge to the plan appears to have stalled.
Launched in late March, to date only £920 has been donated online – 20% of the group's target figure.
The campaign statement says the Old Deer Community Association and Aikey Action Group intend to "progress with the judicial review and given the strong feelings that exist within the local community, intend to fund the process through public donation".
Last night organisers of the campaign declined to comment on the latest donations but it is understood a meeting will be held soon to discuss the future of the challenge.
A spokeswoman for Aberdeenshire Council has confirmed chief executive Jim Savege received a letter from the group notifying him of a possible legal challenge.
The authority said it could not comment on proceedings which have yet to begin.
During an impassioned debate about the Aikey Brae stopover site at the beginning of March, former councillor Allan Hendry called on colleagues to finally accept their responsibility to provide for the travelling community.
Mr Hendy chaired the gypsy/#traveller working group at Woohill House.