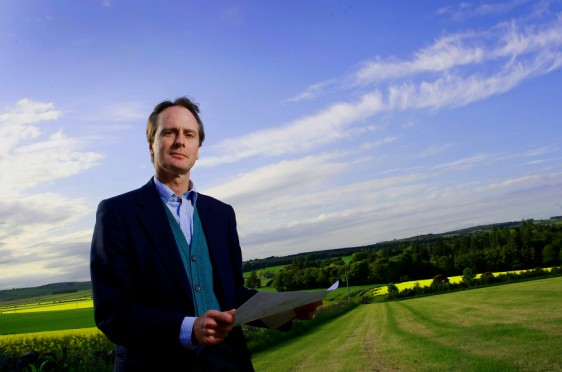 Councillors are being asked to re-approve work which has already started on a massive housing development in Aberdeen.
The move is due to a complex legal battle between the local authority and the Queen's cousin.
The city's planning development management committee will meet next Thursday to debate planning permission in principle for the Bancon Maidencraig scheme near Kingswells – which was already granted permission in 2013.
However, Aberdeen and Aberdeenshire councils were dealt a blow last year when the Duke of Fife, David Carnegie – whose company is behind the Chapelton of Elsick scheme near Newtonhill – successfully challenged an £8million contribution demand.
His firm had been asked to pay the money to the strategic transport fund as part of planning consent – but Court of Session judges reduced the bill to £287,000.
The Strategic Development Planning Authority – comprising representatives from both authorities – has agreed to appeal against the decision to the Supreme Court.
But planners are bringing the paper back as £230,000 in contributions from the developer is now at risk.
A legal agreement has been drawn up to allow the money to be spent on schools, libraries and roads improvements.
When the proposal first came before the council in 2013, it proved divisive in some sections with the Kingswells Community Council lodging an objection.
A report to the committee reads: "At its meeting on October 29, 2013, the committee agreed a willingness to approve this application but to withhold the consent document until the applicant had entered into a legal agreement to secure developer contributions, the transfer of ownership to allow improvements to the A944 and affordable housing.
"This included financial contributions towards the strategic transport fund.
"Subsequently, a legal challenge was lodged at the Court of Session (Inner House) by the Elsick Development Company Ltd and Goodgrun Ltd, against the adoption by the Aberdeen City and Shire Strategic Development Planning Authority (SDPA) of STF Supplementary Guidance.
"In light of this new material consideration since the committee considered the application, there is a requirement to refer the application back to committee.
"[This is] in order that the matter of the development's impact upon the strategic transport network can be considered in the absence of the STF Supplementary Guidance."