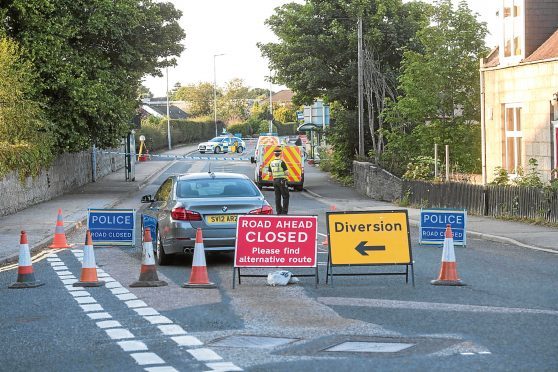 A woman has died after she was hit by a car in a north-east town.
Anne-Marie Glass, 49, was hit by the vehicle on School Road, Kintore, at about 4.50pm on Saturday.
Police and the ambulance service were called to the scene, close to the derelict Torryburn Hotel, but she was later pronounced dead.
It is understood the car collided with the 49-year-old, who is believed to be local, after pulling onto a lane from the main road.
Shocked neighbours said they were alerted to the tragic incident after emergency services arrived.
One man, who did not want to be named, said: "All I could see was police and ambulance activity in the lane, I didn't see anything else. I think most people are still in a state of shock."
Another man, who also wanted to remain anonymous, added: "I arrived back in Kintore about 5pm and saw the police and an ambulance diverting traffic away from it."
Meanwhile, East Garioch councillor Fergus Hood said the "horrendous" incident had left the whole town reeling.
He added: "This is obviously tragic and I was very saddened to hear about this person losing their life.
"My heartfelt condolences go out to the person's family and also the driver who was involved because it would no doubt have been a traumatic experience for them too,
"In respect of the woman who died, she will have left her house to go and do something with her day and her family will have expected her to return – it must be horrendous for them to learn that she was in this accident and they will never see her again.
"Though we don't know the full circumstances, it's not something we would expect to happen in our community, where there's a 30mph speed limit. It's not the type of accident that normally happens in a built-up area."
Police have said there are no suspicious circumstances and a report will be forwarded to the procurator fiscal.
In 2015, a pedestrian died after being hit by a lorry not far from the scene of Saturday's crash.Inverurie man Oskars Zenka, 27, was killed on the A96 Aberdeen to Inverness road, close to the B987 Tavelty junction.