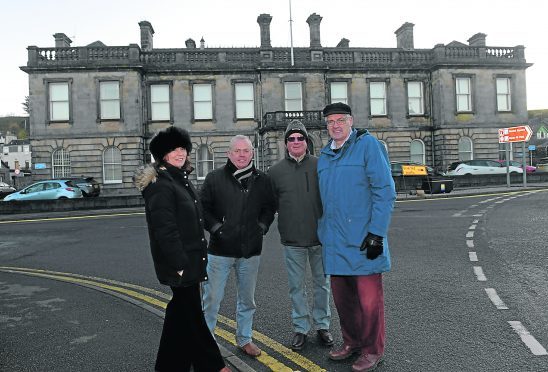 A community group has taken a major step forward to breathing new life into a former court building.
Stonehaven Town Partnership is on its way to securing more than £53,000 of funding to help it take over the sheriff court site, which has lain empty since 2014.
The group hopes to transform the building into a community facility, if it can take over ownership from the Scottish Courts and Tribunal Service.
It plans to make some of the rooms available as offices, and meeting rooms for community groups.
But to succeed, the group must prove it is in a financially sound position to take over the running of the building. Now they are a step closer to this after securing permission in principle for European funding, which would open up the door to £53,541.
The cash will be used to ready the facility for the first phase of the project, where some of the rooms would be available as offices.
This involves making sure the building is water tight, timber treatment works, installing IT equipment and internal alterations.
Further funding of £8,000 will also be made available from the Kincardine and Mearns area committee once the European funding has been formally secured.
STP will also recieve a loan of £100,000 from Social Investment Scotland to be used after the first phase of the scheme is completed.
The news means the group has overcome a significant hurdle after attempting to bring the building back into use following its closure.
A spokeswoman for the group said: "The benefit of this project is that a historical building which is currently looking forlorn and is empty, and for which no other use has been suggested, can now be seen to have a productive future for the benefit of the community of Stonehaven and the surrounding area.
"There is a shortage of meeting rooms and hall space in Stonehaven and the court building has court room one and court two which can be used by many groups in the town as well as the office space that will be available after the refurbishment has taken place.
"The court building will be a fantastic community asset and STP are excited by the prospect of delivering this project for Stonehaven."