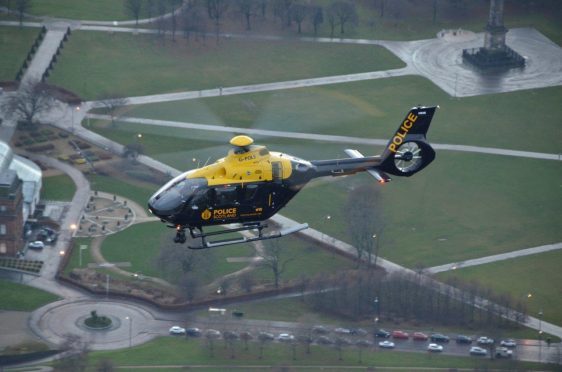 While hundreds, sometimes thousands, of police officers can be involved in a missing persons search on the ground, having someone provide eyes from above is invaluable.
There is one police helicopter in Scotland, an Airbus HI35 T3, which is based out of the Clyde Heliport in Glasgow.
'People might have an idea in their head of what we do but the reality is much different'
Inspector Nicholas Whyte has been in the police for 22 years and has been with the air support unit since 2005.
With the crew dealing with an average of two or three incidents at any one time, it can be a challenge.
And, as they cover such a vast area, which takes in the wide-ranging Scottish landscape, Insp White says they can deal with "tough terrain".
He said: "Missing persons is bread and butter for us, it's something we deal with on an almost daily basis, we probably have on average two to three incidents on the go at any one time at various stages.
"What we are looking at is search parameters. What we want to know from the officers on the ground is where the person was last seen and then we can follow routes they are likely to go on.
"A typical start is one square mile which it would take the helicopter about 10 minutes to cover, where it would take officers on the ground about seven to eight hours.
"It's a great asset for big open areas and if we are covering that area very quickly it means you can divert resources elsewhere."
The helicopter is available from about 8am to 1am, and is able to sit about 750ft above the ground during daylight.
It is staffed by a pilot, an officer in the front and one in the rear who will operate the navigation system and will also have binoculars.
Among the equipment the unit has is a multisensory camera with thermal imagery, which picks up body heat, and Police Scotland is the first force in the UK to have night vision goggles.
Insp Whyte added: "We use them to avoid any hostile terrain, like hills, telephone poles.
"And as we cover the whole of Scotland, there's a lot of tough terrain."
The thermal imaging provides a 3D picture in two different colours, cold will be black and warm will be white.
This can be quite difficult to interpet on occasion, Insp White said, as things like compost heaps and rocks can show up as white.
However, on one occasion, the unit managed to find a missing walker thanks to their smartphone, despite the fact they themselves were so cold that they didn't show up on the equipment.
"It's certainly unique, when I joined the force 22-years-ago I never thought I would have been flying in a helicopter," Insp White added.