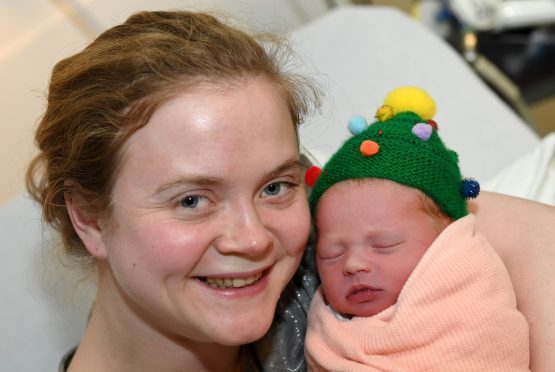 Expectant mums have received some extra special Christmas surprises  at Aberdeen Royal Infirmary as they welcomed their newborns into the world on Christmas day.
A number of parents were at the maternity hospital for the festive season from all across the north-east, and three little babies were born in the wee hours of this morning.
The first Aberdeen baby was born at 2.10, followed closely by a second Christmas miracle at 2.33am.
And a few hours later at 5.39am exactly, proud mum Nataleigh McGonagle, 30, gave birth to her second child.
The little newborn boy, who has not been given a name yet, weighed in at a healthy 6lb 4oz.
But for mum and dad Nataleigh and Stephen, 39, the arrival of their son came as a surprise as they weren't expecting him until January 14.
Mrs McGonagle said she can't wait to take him home to meet his big sister Orla, who is two years old.
The little boy was given a special woollen Christmas tree hat, which was knitted by volunteers at Aberdeen Royal Infirmary.
Mrs McGonagle, who is from Pitmedden, said: "I've got a daughter called Orla, who is staying with my sister and my parents today to have their Christmas dinner.
"My sister told her this morning when she came down to open her presents. She's very happy, I sent her a video of her new little brother so she's been watching it all morning.
"We haven't decided on a name yet, we were thinking Ethan Daniel McGonagle, but we keep changing our minds."
Mrs McGonagle joked that she was looking forward to giving her son twice the presents every December 25 to celebrate both his birthday and Christmas Day.
She added: "It's not been ideal to have him on Christmas Day because I would love to be at home with my daughter, but I'm hoping to get home and see her later on today."