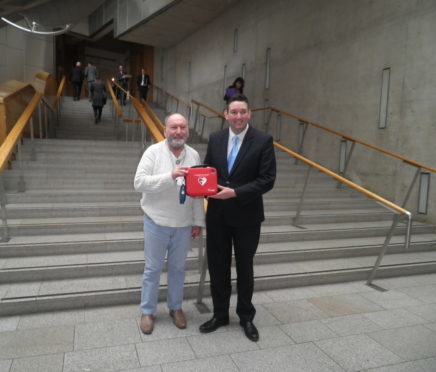 A north-east campaign for increased public access to life-saving defibrillators has made its way to Holyrood.
Phil Mills-Bishop, chairman of Stonehaven and District Community Council, met Miles Brigg MSP, the Tories' shadow secretary for health, to highlight the problems faced by communities across the region and further afield.
Mr Mills-Bishop has branded the process of installing the devices as "frustrating" due to the bureaucracy and legal hurdles involved.
He said: "My proposal is for an all-party Scottish defibrillator bill which would remove some of the impediments both legal and costs, VAT for example, but impose a duty of care on local bodies such as local councils to ensure all schools have a defibrillator located inside their buildings and familiarisation is part of the curriculum.
"Mr Briggs was very sympathetic, having had direct experience of some of these issues, and wants to see the elimination of some of the obstacles faced by local communities and organisations.
"Edinburgh Council was highlighted as a local authority leading the way on promoting defibrillators and we want to help stimulate a more rapid development of resuscitation awareness and use of defibrillators across Aberdeenshire and Scotland.
"Some people are reluctant to use them due to lack of awareness but also familiarisation of defibrillators and fear of any possible litigation."