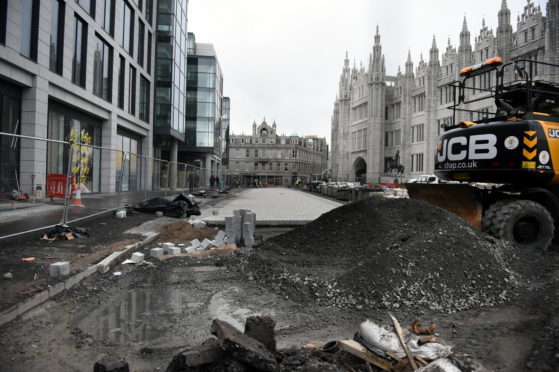 Concerns were yesterday raised that a £3.2million pedestrianisation project in the heart of Aberdeen could suffer further setbacks due to resurfacing works on a neighbouring road.
Broad Street closed to traffic more than a year ago for work to take place to create a "shared space" of land only open to buses and cyclists.
Resurfacing works are currently being carried out on Queen Street, with work beginning in February and an initial completion date of April.
But it has now emerged that the this will not be finished until July at the earliest.
Broad Street was closed to vehicles last March ahead of the redevelopment of the city council headquarters which was demolished to make way for new buildings.
Several problems were then uncovered, including the discovery of a soft spot underground, thought to have been caused by exploratory works, as well as issues with connection to drainage pipes.
The street was temporarily reopened for the Christmas market and Great Aberdeen Run.
And in February, council chiefs announced their intention for the work to be completed by the end of spring.
Last night opposition SNP councillor Michael Hutchison, who represents the George Street and Harbour ward, said: "Following the farce of the Upperkirkgate closure we had hoped the administration learned some basic lessons and folk will now be wondering whether this will further delay the Broad Street project.
"Either Broad Street will be closed for longer or we'll see diverted traffic continuing to drive over partially closed pavements.
"There needs to be a clear message from the council leaders about what has happened here because it's descending into more of a joke by the day."
An Aberdeen City Council spokeswoman said: "Since September 2017 we have stated that Broad Street will be completed in late spring/early summer 2018, and this is still as scheduled.
"We are working with the contractor to arrange a phased handover of Broad Street, which will allow the other zones to open as completed to mitigate any delay in the project.
"We apologise for any inconvenience this may cause to customers in the area and we are working closely with the contractor to try to re-open Broad Street early where possible."
And Ross Grant the administration transport spokesman added: "We are confident that work being carried out on Queen Street to enable partial pedestrianisation of Broad Street will compliment the administration's drive to regenerate the east end of Aberdeen."