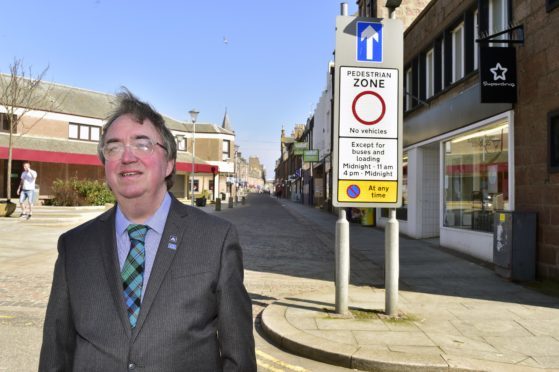 A north-east councillor will this morning make an impassioned plea for parking fee changes to be scrapped amid fears that it will undo efforts to regenerate his town centre.
Aberdeenshire Council is seeking to plug a financial black hole created when it started offering motorists an hour of free parking across the region.
The decision resulted in revenues tumbling and the authority now faces an annual deficit of about £140,000 for the service.
Options to remedy the situation include scrapping the free hour, increasing parking charges, and reducing the free hour to just 30 minutes.
They are up for discussion by area committees.
Last night, Peterhead councillor Stephen Calder said any attempt to change the status quo could hurt regeneration efforts.
Since 2016, the port – alongside Fraserburgh, Banff and Macduff – has been the focus of efforts to bring people back to the high street.
Mr Calder said: "Anything which discourages visits, social and economic activity in the town centre would be very unwelcome at a time when we are actively trying to encourage regeneration of the area.
"The removal of the one-hour free period would have a devastating effect on Peterhead town centre and would inevitably lead to a decline in visits to the town centre for shopping and social interaction."
He added: "Many people use the 60-minute period to go to shops, banks, visit hairdressers etc.
"This would be impossible in a 30-minute period given the size of the town centre. It is not appropriate to have such a short free parking period in Peterhead.
"The proposals would be extremely detrimental to the town centre and to shops and businesses. It would mean fewer people coming into the high streets and make surrounding streets even more congested."
Mr Calder is calling on committee members to instead increase the cost of parking after the free hour, but cap it to the current rate of inflation.
The proposals will be discussed this morning before a final decision is made by the council's infrastructure committee later in the year.