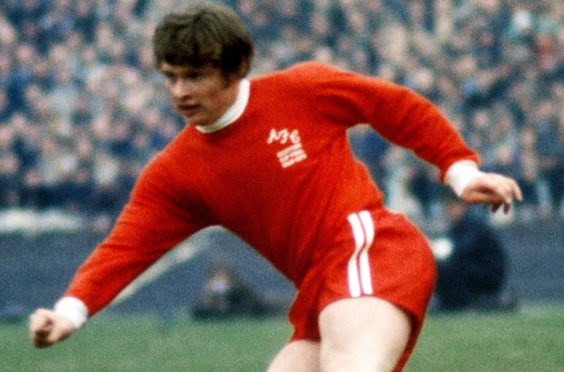 The King of the Beach End will kick off an Aberdeenshire town's Highland games next month.
Aberdeen FC legend Joe Harper will be guest of honour at the Oldmeldrum Sports and Highland Games and will officially open proceedings.
The Dons great – who is the club's record goalscorer – will be just one of many star attractions at the Pleasure Park with a range of events planned for the day.
There will be the traditional heavy competitions and Highland dancing on show, with the popular "five miler" race too.
And there will also be the musical accompaniment of six pipe bands from around the local area.
In addition, stars of the squared circle will return to the event for the first time in a number of years, with local wrestling promotion Wrestlezone in attendance.
And there will be an exotic flavour to the event with the Yee's Hung Ga welcomed back to perform a traditional Chinese lion dancing display.
Secretary Gordon Forsyth said Mr Harper was an appropriate choice given the Dandies' recent success in finishing second in the Scottish Premiership.
He said: "It's very important to have someone that lots of people will know.
"It's been a few years since Joe played of course but he's well-loved by Aberdeen fans across the board."
As well as the sporting events there will be food and charity stalls at the site, with Ollie's Nightfever Disco on at night.
The games is supporting Breast Cancer Now once more as well as the scouts and its annual £1,000 bursary which will be given to a pupil at Meldrum Academy.
And Mr Forsyth said he was hopeful that there would be a repeat of last year, where the crowds basked in blistering sunshine.
Mr Forsyth added: "The better the day the more money raised for all the local charities and organisations."
The games takes place on June 16, with the opening ceremony taking place at 1.30pm.