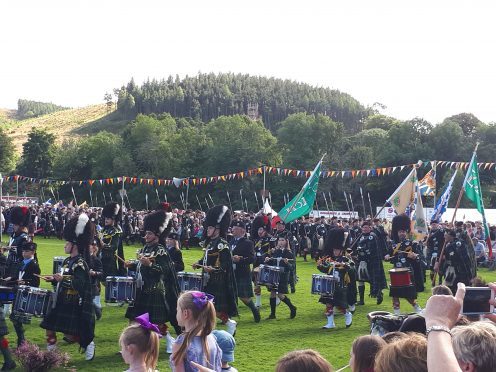 North-east children are being encouraged to stay active by walking a mile in front of thousands of people at an iconic gathering in Aberdeenshire.
The Lonach Highland and Friendly Society has teamed up with the founders of a ground-breaking health initiative to bring a new event to this year's Lonach Highland Gathering and Games.
Organisers of the annual Aberdeenshire spectacle have joined forces with The Daily Mile to hold an event for primary age schoolchildren at this August's gathering.
It is being arranged in conjunction with Active Schools Aberdeenshire and aims to give children attending the day-long celebration of Scottish heritage an opportunity to clock up their daily mile in front of an audience of thousands.
To add a sense of occasion to proceedings, they will be led into the arena by a local pipe band.
This year's Lonach Highland Gathering and Games takes place on Saturday, August 25 in the village of Bellabeg, with the Daily Lonach Mile scheduled to start at 12.30pm.
It is open to all children of primary school age on that date and is free to enter.
The Daily Mile is an initiative that was established in 2012 by Elaine Wyllie while she was the head teacher at St Ninian's Primary School in Stirling as a way to improve the fitness of pupils.
In addition, the programme helps to increase their concentration levels, in turn benefitting their schoolwork.
The scheme is now part of the daily curriculum in over 4,400 schools across the UK and has been placed at the centre of the UK government's strategy to fight childhood obesity.
Jennifer Stewart, secretary and chief executive of the Lonach Highland and Friendly Society, said: "The Daily Mile has been a huge hit throughout the country and we are excited to bring it to this year's Lonach Highland Gathering and Games, particularly in the Year of Young People.
"What better surroundings in which to do a Daily Mile than amidst Strathdon's stunning scenery and with a crowd of thousands cheering everyone on."
In order to give organisers an indication of the number of children expected to take part in The Daily Lonach Mile, parents and guardians are being asked to pre-register by e-mailing dailylonachmile@yahoo.com.