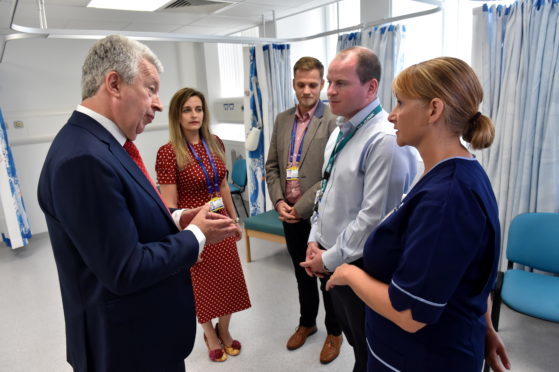 NHS Grampian is a "very open organisation" which encourages whistleblowing, a senior health board figure claimed following the publication of a new report.
The blueprint, by Holyrood's health committee, was launched yesterday at Aberdeen Royal Infirmary and recommends that regional boards should boost transparency and be "more open and honest" about the challenges they face.
A third of NHS staff are fearful of speaking out or reporting issues to superiors, according to the report, with concerns of hurting their career progression or even being blacklisted from the service.
The report says that a dedicated whistleblowing hotline should now be set up for staff to voice their fears.
Yesterday, NHS Grampian's director of corporate communications and board secretary, Laura Gray, welcomed the suggestion.
She said: "We are an open and accountable organisation. But to have that reinforced in this report is helpful and it gives us the opportunity to reflect and see if there's anything we need to further improve.
"We believe that we are a very open organisation in a variety of ways and that we encourage staff, if they have any concerns, to raise them.
"However, we can also do more to reinforce that and the emphasis in this report on that, on the opportunity both locally and nationally to raise staff concerns, is definitely important"
North East Labour MSP, Lewis Macdonald, is convener of the health and sport committee in the Scottish parliament and is hopeful that a shift in culture can be achieved.
He said: "A third of NHS staff don't have that confidence in the service.
"That's really significant, if a third of people aren't reporting incidents or concerns.
"There's a variety of reasons for that, in some cases people feel that it won't do them any good to raise concerns as it may somewhat disadvantage their career.
"They should be able to express their views and not fear the consequences of that. And if that lead is given from the top, and all the way through the organisation, then hopefully it'll deliver a difference to staff."