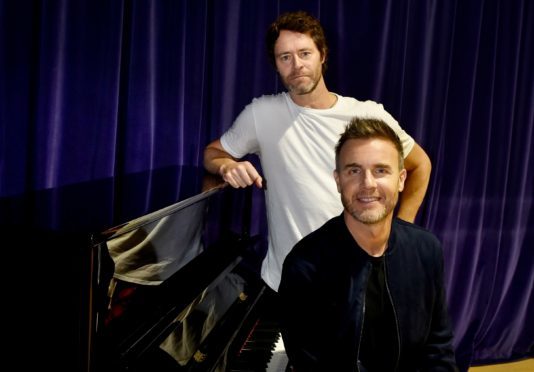 They are used to entertaining thousands of screaming fans in arenas and stadiums around the world.
But tonight Take That stars Gary Barlow and Howard Donald opted for a more intimate setting – delighting hundreds of people by making a surprise appearance in Aberdeen.
The Band, a musical featuring some of Take That's biggest hits, opened at HM Theatre earlier this week to rave reviews.
Speaking before the curtain went up, Barlow and Donald – who, along with Robbie Williams and Mark Owen are co-producers of the show – admitted they had no idea just how successful the musical would be when the idea was first mooted seven years ago.
Barlow said: "We didn't know what it was seven years ago but we loved the idea of having a show that would be home to all our music from across the years.
"It wasn't until (writer) Tim Firth came on board and put together a story that runs alongside – it's not our story, it's a story that runs alongside it. It felt amazing because tje it's a story about our audience."
Even before The Band hit the stage it garnered huge attention through BBC's Let It Shine, a competition to find a group who could perform Take That's hits night after night.
Donald added: "The response has been absolutely positive and people are living it. It's a reflection of their lives being a fan. They don't even need to be a fan of Take That, it's along the same lines."
Five at Five eventually won the competition, and along with the rest of the stellar cast have already performed at more than 300 shows.
Barlow, who was a judge on the show, praised their hard-working ethic.
He added: "This show is set in 1992 and that's when we were springing around, bouncing off the walls. We needed an energetic band and they're just that.
"They hit the ground running and that's what it needed."
As the crowd settled down to watch the show, Barlow and Donald were at the edge of the stage – where they enjoying watching the faces of the audience.
There's one scene in particular Barlow enjoys, as he says it is where "everyone sees themselves on the stage for the first time".
He said: "The show is about friendship. That's why people find it so moving, we're all fans of music and we've all got friends that we look after and know what it feels like to be looked after."
He added, with a laugh: "If you're not moved by this story then you've got a heart of stone."